Pravara Rural Engineering College (PREC) commenced in 1983 with only 165 students in 3 branches. Moving from strength to strength, we are now an ISO 9001:2008 institute with 1911 students across 8 Undergraduate, 6 Postgraduate, and 1 PhD divisions. And, we have nurtured 100+ University rankers.
Awards
10th ABP NEWS National Education Awards 2019
"EDUCATION LEADERSHIP AWARD"
"Best Placement Performance Award" (2016) by Higher Education Review.
"Award for Educational Excellence" (2016) by the Indus Foundation @ Indo American Education Summit.
News & Events
National Webinar on "NEP-2020: Strategy and Implementation" 26th March, 2021(Friday) at 2.30 pm View
Two Days Intervention program on Employability Readiness by Gnosis Plus Edu ventures LLP, Jalgaon for Second Year Students. View
Expert lecture on "Recent trends in embedded systems and IoT " View
Women's Day Celebration @PREC View
MoU signed between PREC, Loni & ACE Surface Solution, MIDC ,Sangamner with the help of alumni Mr. Nilesh Gujarati (Chemical Engineering), company involved in Manufacturer and Supplier of surface cleaning Product View
Congratulations to Mr.Aniket Ghogare (Batch 2020-21, Electronics Engineering) for selection in Rishabh Instruments Pvt Ltd. Nashik. He is selected for R and Position
Hearty Congratulations to Dr. C. B. Kadu Sir, Today received * Gunwant Addyapak Puraskar* by the hands of Honourable Vice Chancellor Dr Nitin Karmalkar and Pro Vice Chancellor N S Umrani on the occasion of Foundation Day Ceremony of Savtribai Phule Pune University, Pune View
Webinar: Advancement in Science and Engineering for Future technology. 4th Feb 2021 View
Hearty Congratulations to Dr. C. B. Kadu Sir, Head of Instrumentation and Control Engineering, for best teacher award in Instrumentation, SPPU, Pune.
Pravara Rural Engineering College, Loni has collaborated with Pragon International University, Cambodia. Read more
Hearty Congratulations to Mr.Rahul Nehe & Mr. Sandipan Kanade (BE Instrumentation & Control 2019-20 batch) for being selected in Divine Robotics India Ltd.,Pune.
Under Graduate Courses-BE
Placement
597 in past 5 years
24 in 2018-19 including:

Bhagshree Jadhav- TIAA Info Tech
Amol Barkule- Praj Instrumentation & Control
Nikita Jadhav - Infosys Info Tech
Vijeta Deshpande - Infosys Computer Engg
Recruiters
Accenture
Tata Motors
Infosys
Praj
Crompton Greaves
INFRASTRUCTURE
LIBRARY
52,000 books, 150-capacity reading hall, Book Bank for economically weak students
LABORATORY
The college has 88 fully equipped laboratories required as per the norms of the University of Pune and All India Council of Technical Education, (AICTE) New Delhi. Sophisticated laboratories like the Software Labs, Hardware Labs, Wind Tunnel Laboratory, Precision Survey Laboratory, Microprocessor Laboratory, Chemical Processing Laboratories etc. have been fully equipped and are constantly upgraded.
HOSTEL
Hostel accommodation is available to all girl students and more than 600 boys in the campus. It is well equipped with all modern amenities like solar water heater,STD booth, reading room, cyber café, emergency lighting system (Generators).
SPORTS
Being a fully residential institute, modern gym, indoor, outdoor sports facilities are provided within the campus. The institute has excellent playgrounds for Cricket, Football, Basketball etc. It also has indoor games facilities like Badminton, Table-tennis, Carrom etc. The college sponsors university level competitions and encourages and motivates the students to participate in the events.
News & Events
Congratulations for great Achievement of our students.
Mr.Kiran Borkar
Miss.Chinmayi Shete
Mr.Shantanu Chaudhari
(BE Computer 2020-2021 batch) for being selected in OneRoof Technologies Ltd.Mumbai.
PREC Students Invent Smart Sanitizer Dispenser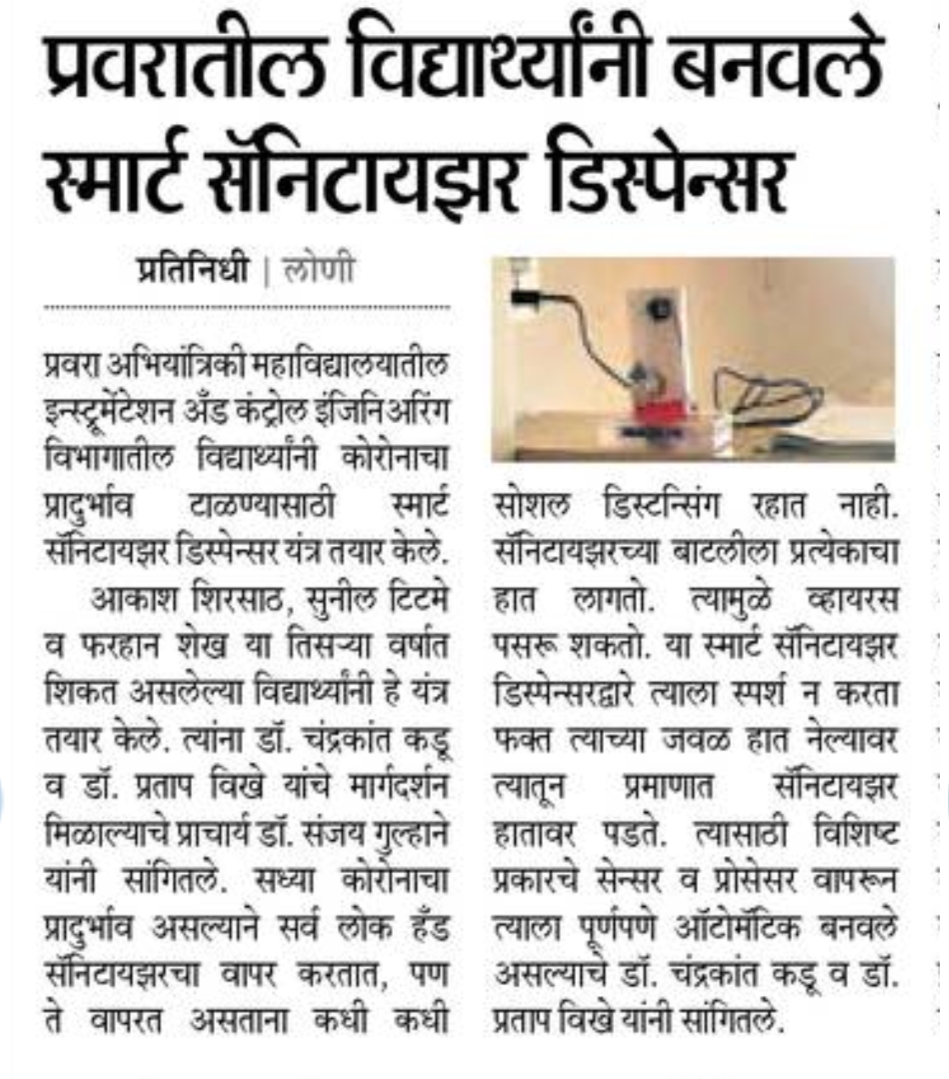 Revised schedule of Change of Branch
View
Congratulations for great Achievement of our students.
Mr.Shelke Nikhil, Mr. Jondhale Shubham, Mr. Ghorpade Vivek, Mr. Ghorpade Anand, Mr. Vikhe Prasad
for securing First Place in Environment Sector in IGNITED INNOVATORS OF INDIA (i2i). Techno-Social projects competition 2019-20 conducted by COEP, PUNE And BHAU Institute of Innovation, Entrepreneurs & Leadership program sponsored by EATON INDIA LTD. PUNE.
View
Alumni
12,000+ in 40+ cities