About Institute
Strong Research, Potent Innovation
PREC Loni channelizes the inherent innovator in rural areas into a creative engineer of the 21st Century.
Pravara Rural Engineering College (PREC) commenced in 1983 with only 165 students in 3 branches. Moving from strength to strength, we are now an ISO 9001:2008 institute with 1911 students across 8 Undergraduate, 6 Postgraduate, and 1 PhD divisions. And, we have nurtured 100+ University rankers.
PREC is particularly potent on research and innovation. Of the 119, 16 of our faculty hold PhDs with 44 having registered for the same. Students are not far behind – 2 have filed for patents and 4 are in the process of completing PhDs. Over the last 5 years, companies have hired 597 students including the 24 in 2018-19.
So what enables such splendid performance? For one, the fantastic infrastructure – 88 laboratories, a library with 52,000 books, and 3 hostels of total 800 capacity. Then, there is our sterling and inclusive work culture.
Highlighting our commitment to social responsibility is the "Earn & Learn" Scheme and the "Book Bank" Scheme for economically weaker students. Rain water harvesting, solar power plant, and biogas plant from kitchen waste underline our focus on environmental conservation. As complete as it gets!
Area of the Educational Campus : 52.7 Acres
Recognized : Directorate of Technical Education (DTE), Govt. of Maharashtra
Approved : All India Council for Technical Education (AICTE), New Delhi
Mission
Provide quality technical education through effective teaching- learning and research to foster skilled youth with values capable of delivering significant contribution in local to global development.
Vision
Enriching the youths with skills and values to enable them to contribute in the development of society: nationally and globally.
Affiliation
The College is affiliated to the Savitribai Phule Pune University, Pune and approved by All India Council for Technical Education (AICTE), New Delhi. The college has been accredited by NAAC in 2019. A Governing board duly constituted by the Pravara Rural Education Society, Pravaranagar, administers the College. The medium of instructions and examination is English.
Awards
"Best Placement Performance Award" (2016) by Higher Education Review.
"Award for Educational Excellence" (2016) by the Indus Foundation @ Indo American Education Summit.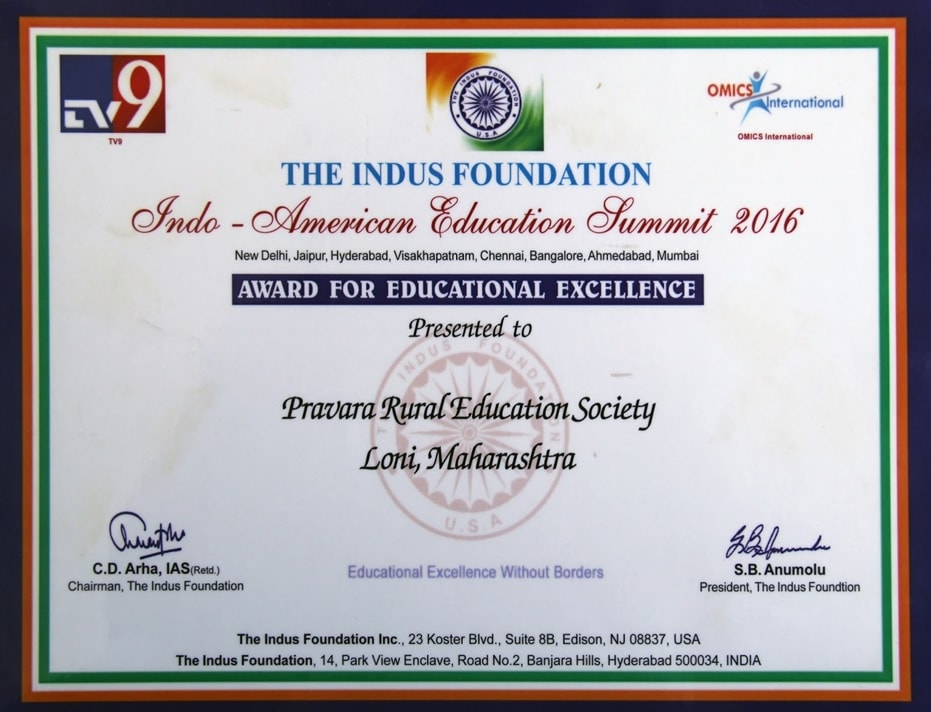 Infrastructure
Library: 52,000 books, 150-capacity reading hall, Book Bank for economically weak students
Laboratory: 88 labs
Hostels: 3 hostels (2 boys, 1 girls) with 800 capacity
Sports
Placements
597 in 5 years
24 in 2018-19 including:
Bhagshree Jadhav- TIAA Info Tech
Amol Barkule- Praj Instrumentation & Control
Nikita Jadhav - Infosys Info Tech
Vijeta Deshpande - Infosys Computer Engg
Distinctions
Associate Member and Training Provider for Telecom Sector Skill Council under the National Skill Development Council (NSDC)
350KW Solar Power Plant under Green Initiative
Kitchen Waste Biogas Plant
Rain Water Harvesting
Dr. S.M. Gulhane
Principal
Dear Students,
Finding your path in life is a journey that will take, interestingly enough a life time. It is multidimensional. Your life, career & your future will grow and change as you seek opportunities. Our focus at PREC Loni is to let you begin your journey on the right foot, to help you head in a direction, i.e., fulfilling and meaningful. We prepare you to adapt and prosper in ever - changing life and in a multi-dimensional changing world. At Pravara, you will find the total personality development and guidance for all types of higher education in India & abroad. The management has started multidimensional activities to meet, the challenges of future life. We have Training and Placement centre, Mentoring cell, departmental association Yoga Classes & well equipped indoor & outdoor sports activities.
Our main strength is our alumni, who are placed in very high position in India & abroad, own industries with the turnover ranging from 02-100 crores per annum. We provide value addition courses and remain in touch with the latest technological trends of the world. I am sure that your decision to be students of this college will help you to achieve greater heights in life. Wishing you all the best.