Placements
PRES launches the careers of its students and their lives on a splendid trajectory.
PREC Students selected in various MNC companies with higher packages.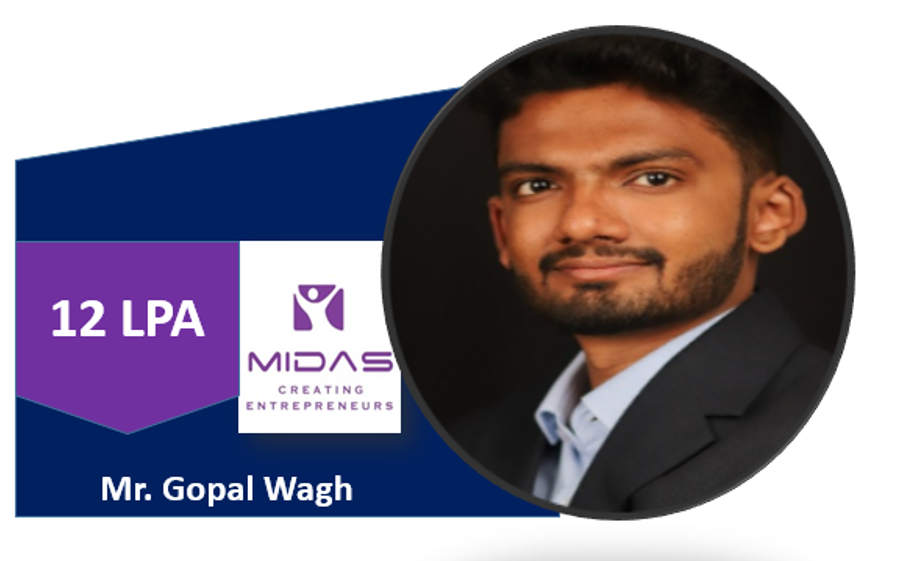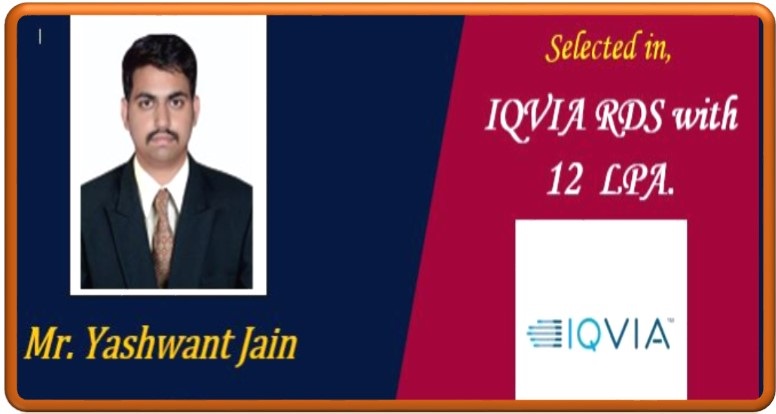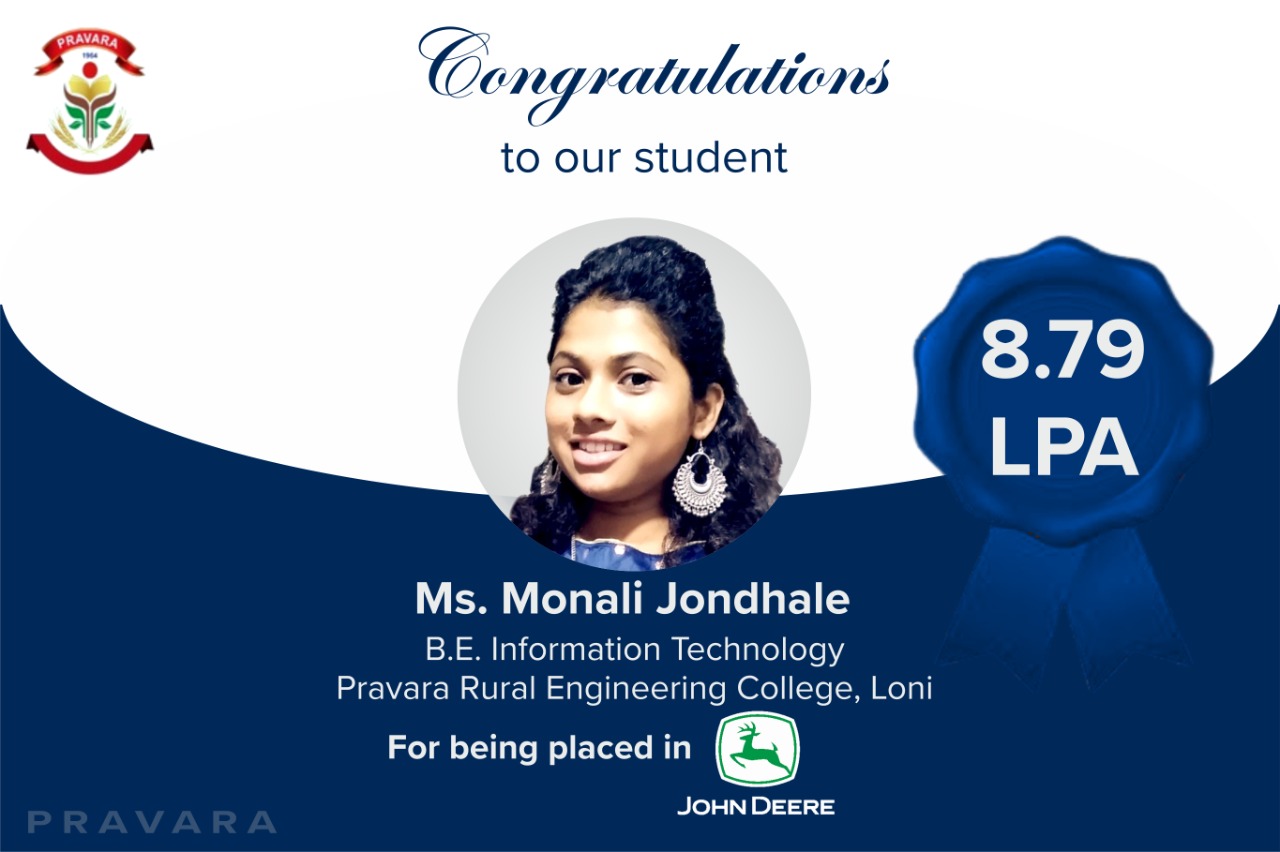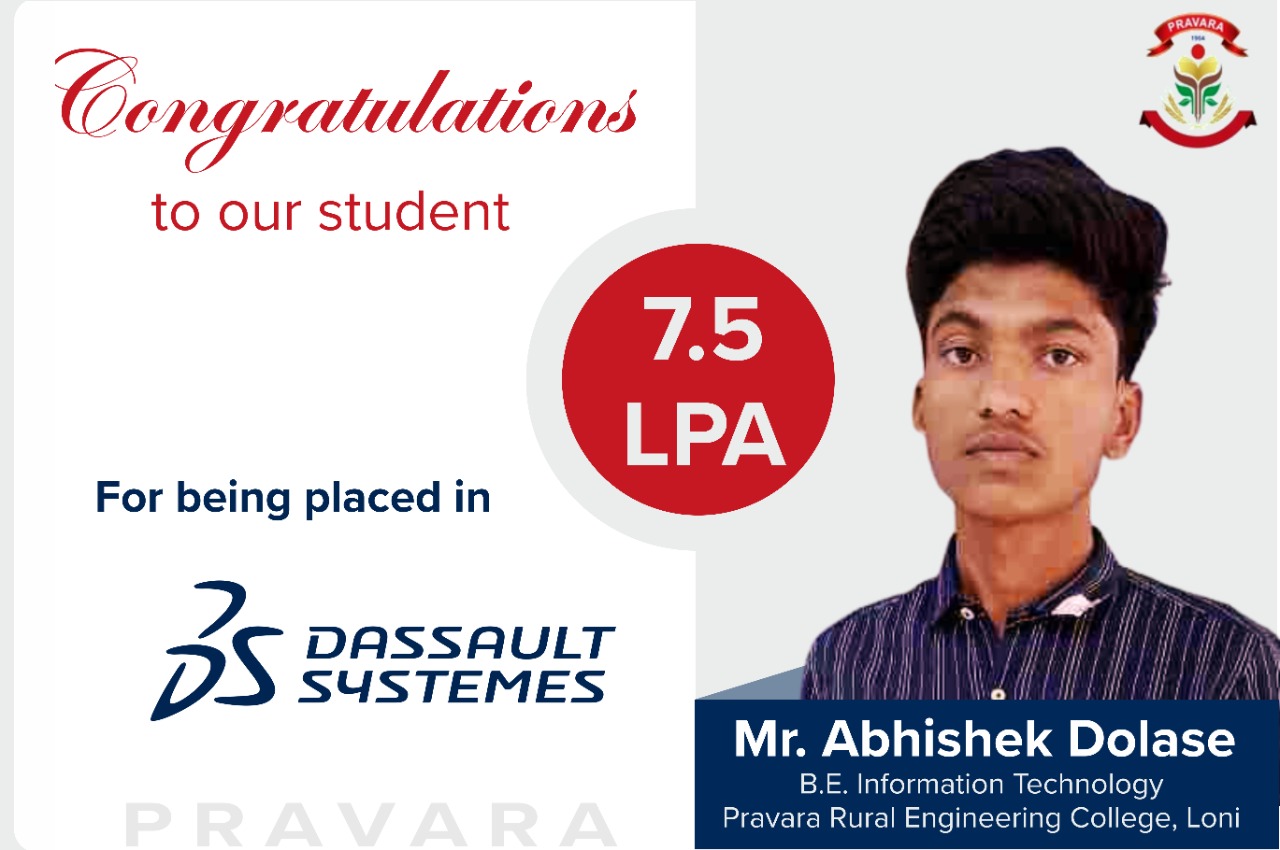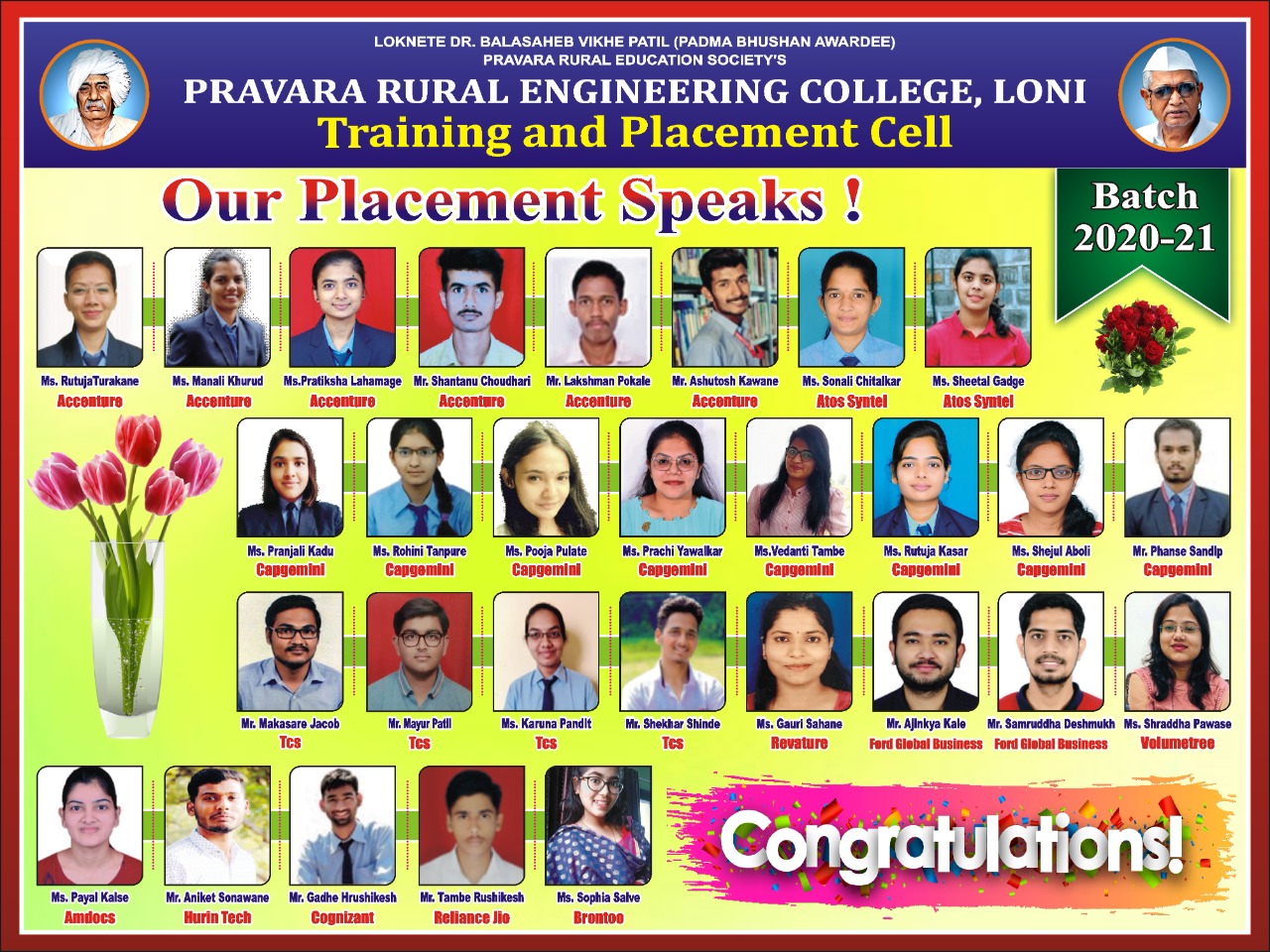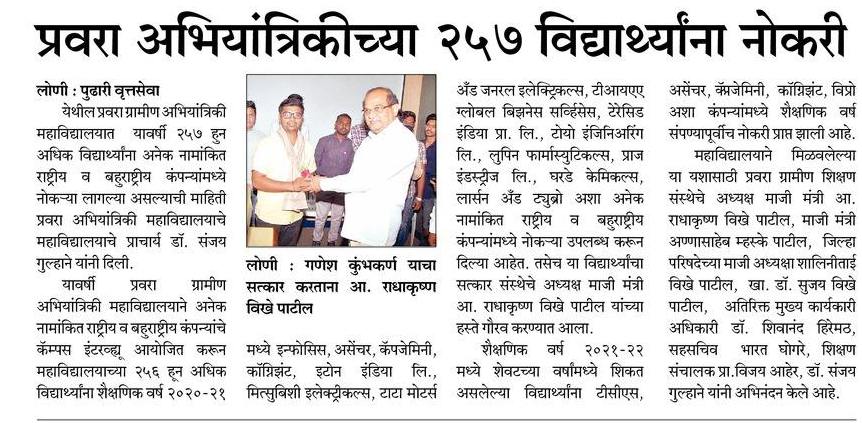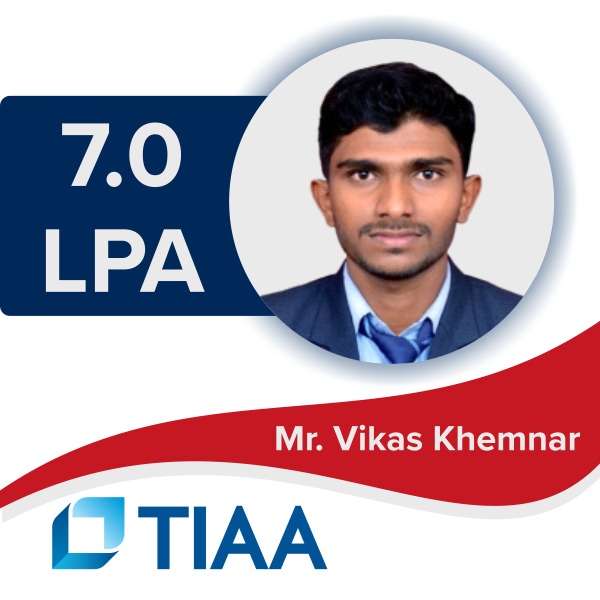 Placement Cell
Dr. Warade A.R.
Training & Placement Officer
Pravara Rural Engineering College, Loni
Dist: Ahmednagar (MS)-413736, India
Mail: arwarade@gmail.com , tpc@pravaraengg.org.in
Cell: +91-7588605565
Training & Placement Cell is among the most important divisions of the Institute. The basic function of the cell is to interact with the Corporate World and centrally handles campus placements of Pre-final and Final year students from all departments. PREC has signed Memorandum of Understanding (MoU) with more than 30 reputed companies.
Cell has exemplary infrastructure for conducting interviews, special lectures, workshops, group discussions etc. It promotes industry-institute interaction, organizes industrial trainings and gets sponsored projects from the industry.
Advisory committee consisting of Training & Placement Officer with senior professors from various departments co- ordinate related activities. Invitations are sent to various companies for Campus interviews.
Other operations:
Organizes regular, well-planned industrial visits with special college bus.
Assists students in GATE examinations.
Guides students for various competitive examinations conducted by UPSC, MPSC, Army, Navy, Air Force for Engineering and Administrative cadre.
College alumni are working successfully in India and Abroad in the prestigious companies such as Microsoft, Tata Group, Toyo Engineering, IBM, Reliance Group, N.PC.L.lndia, Army, Navy, DRDO, Air Force, Gammon lndia, SKF Bearings, Satyam Computers, Siemens, Atlas Copco, TCS, and Patni Computers to name a few.
TPC Rules and Regulations
Students have to:
Provide data in the prescribed format issued by the placement cell within given time frame. Failure to do so will exclude the student from the placement process till further notice. Incomplete forms will be rejected and considered as non-submission of data.
Carry all their testimonials and necessary documents (e.g. mark sheets of X, XII and all semesters, leaving certificates, recent passport size photos, curriculum vitae, etc.) at the time of placement.
Prepare in advance for the selection process (e.g. technical test, aptitude test, MCQ, subjective test, GD & PI etc.)
Understand the company norms (job profile, salary, bond, increment, probation period etc.) for the purpose of placement.
Choose which company interview to appear for because companies do not visit the campus in any fixed order. After getting recruited by one company, student will not be allowed to appear for other company's selection process, regardless of whether he/she is willing to join the company in which he/she has already been selected.
Understand that:
If caught violating the process of placement, their registration will be cancelled with immediate effect and they will not be considered for upcoming campus interviews.
Mobile phone is strictly prohibited during entire selection process.
They have to submit a copy of the offer letter to the placement office.
Final authority will be only and only with placement cell with regard to selection process.
Note:
ON CAMPUS placement means placement conducted within the campus.
JOINT CAMPUS placement means placement conducted in any other college.
OFF CAMPUS placement means placement in which college is not involved directly.
Achievements of Placement Cell
Conducted two Bhartimela consecutively wherein 700+ students were recruited in various reputed industries.
Conducted 3 Industry Institute Interaction meets till date in which around 60-70 HR Directors/VPs/Managers participated and exchanged views to improve the Industry-Academia partnerships.
30+ Companies conduct recruitment drives each year.
Pravara has placed more than 500+ students across India in last 5 years.
FAQ'S
Following are the questions designed to ease out the questions that often students have in their minds.
Companies which would like to recruit fresher's visit the institutes, conduct the process of recruitment and recruit the students when they are in final year of engineering. It will be a day-long process.
Normally, the campus placement procedure takes place in the middle of the seventh semester. It starts in the month of September and goes on till the end of the academic year and sometimes even beyond that.
Only those students who meet the eligibility criteria given by the companies can participate.
Students interested in the campus placements should register themselves with the placement cell when the notice is put up on web site live for the same.
Various companies have different eligibility criteria. However, there are companies which do not have any eligibility criteria. All the students studying in the final year will become eligible in that case. Some of the eligibility criteria to participate in the campus placements are given below:
SSC – 60%
HSC – 60%
Diploma – 60%
Engineering aggregate marks – 60%
Can/cannot have live KTs
Can/cannot have Dead KTs
Can/cannot have Gap during Engineering/Gap during education
Companies will have all the above or some as the eligibility criteria.
The following are the stages of recruitment:
Pre-placement Talk
Aptitude Test/Technical Test (Online/Pen and Paper)
Group Discussion.
Technical/HR Interview.
MR (Management Round) Interview.
Consists of verbal reasoning, logical reasoning and mathematics. Duration of the test varies, depending on the company. Every company has minimum marks section-wise or overall. Some companies have negative marking also. Those who clear the aptitude test will go to the next round of the selection process.
Group discussion is conducted to evaluate the students on the basis of knowledge on current affairs, communication, leadership qualities and group behavior. Those who clear the group discussion will go to the next round of the selection process.
HR interviews are conducted to evaluate soft skills and confidence. It ensures that the company is not only hiring a person who is good technically but also someone who fits in to the company and its culture. The attitude of the students is tested in this round of interview. When a student is giving personal interview, how he/she enters and walks in to the room, how he/she sits, how and what he/she answers are all important.
Conducted to test the technical knowledge of the students. Questions will be asked on the basics of engineering subjects studied. In case a student has done any certification course, his knowledge in that area is also tested.
Yes. It will be declared on the same day by many companies. But a few companies will mail the results later.
College identity card. Updated resume in the given format (3 copies) Original and photocopies of mark sheets and other certification if any. 2 passport size photographs. Students should be formally dressed and follow code of conduct.
Yes. Every student should be attired in formal wear. Please go through the code of conduct.
Yes. Pre-placement training will start from the fourth semester onwards and it will continue till the campus placements begin.
Please go through the list of the companies mentioned under placements on website.
No. Once a student is selected by any company, he will be out of the campus placement activities. However, if a company, which pays a salary difference of about 2 lakhs and above per annum, visits VIT all the students already selected will also be allowed.
Hearty Congratulations to

Ms.Shinde Ashwini
(BE Instrumentation & Control 2020 batch)
for being selected in Accuon Project Ltd.,Pune.
Placement Update of your students trained in Embedded Sys at VECTOR, HYD/ BLR/ CHEN!!

view
Congratulations!!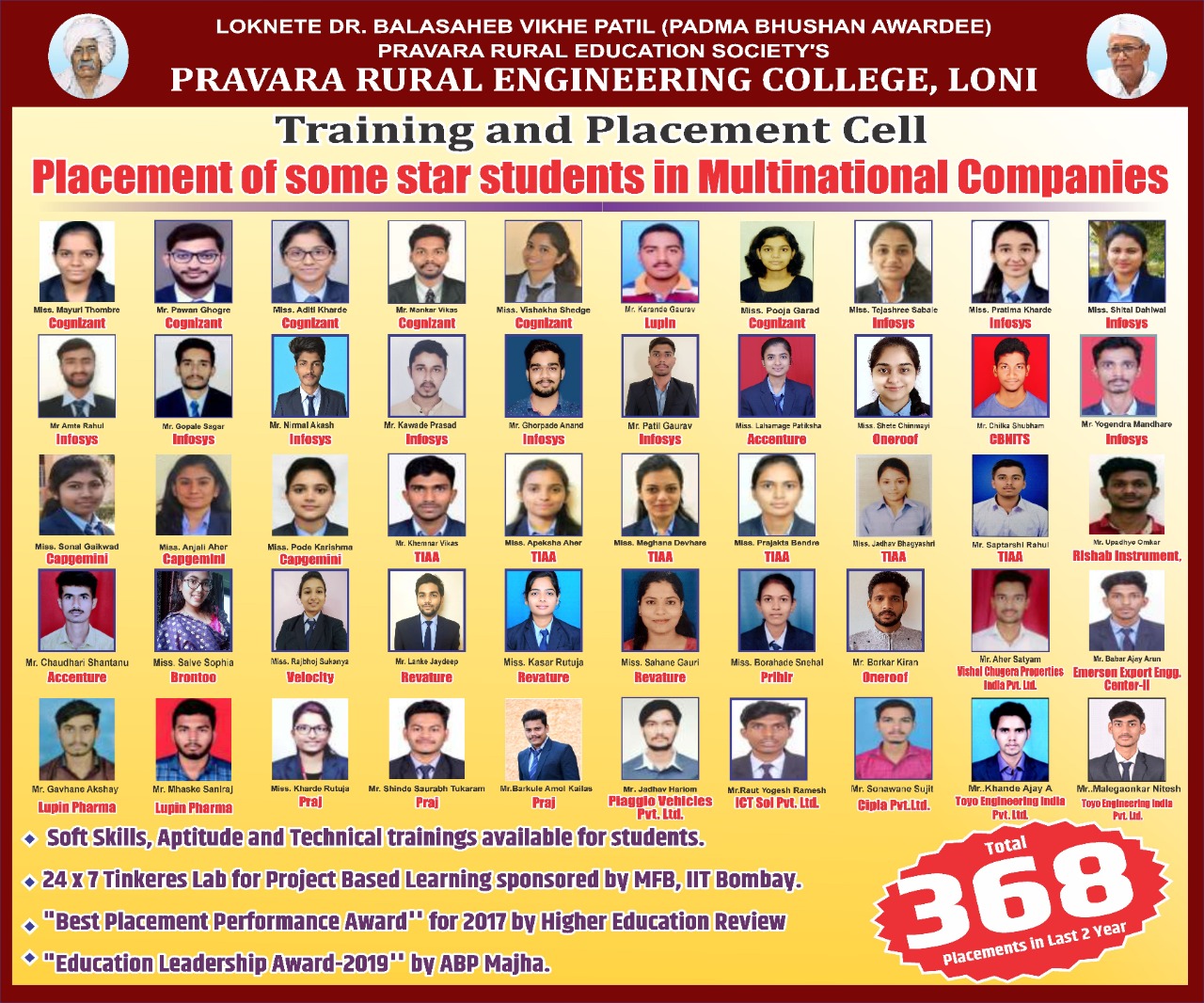 Congratulations!!

Congratulations!!

Congratulations!!

Congratulations!!

Congratulations!!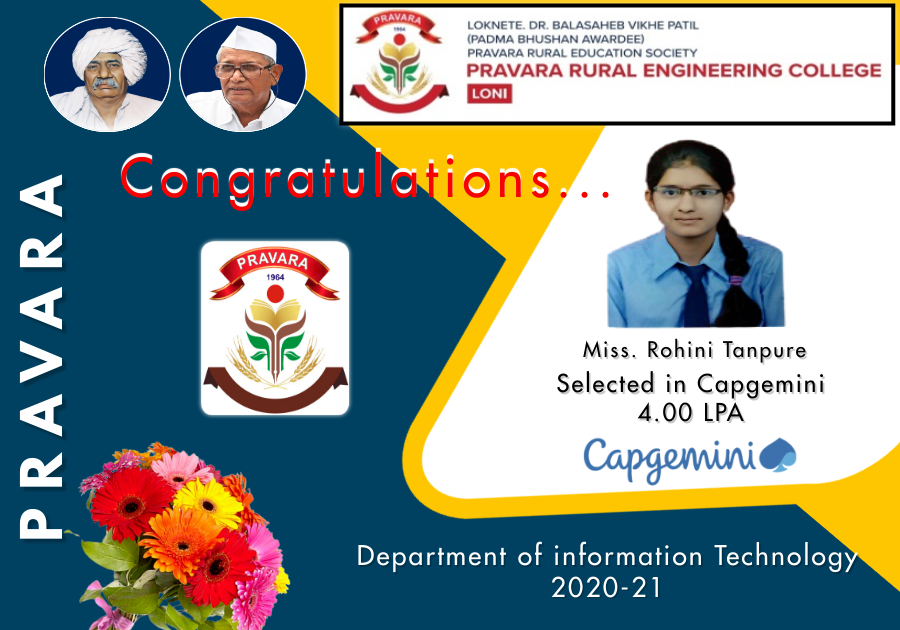 Congratulations!!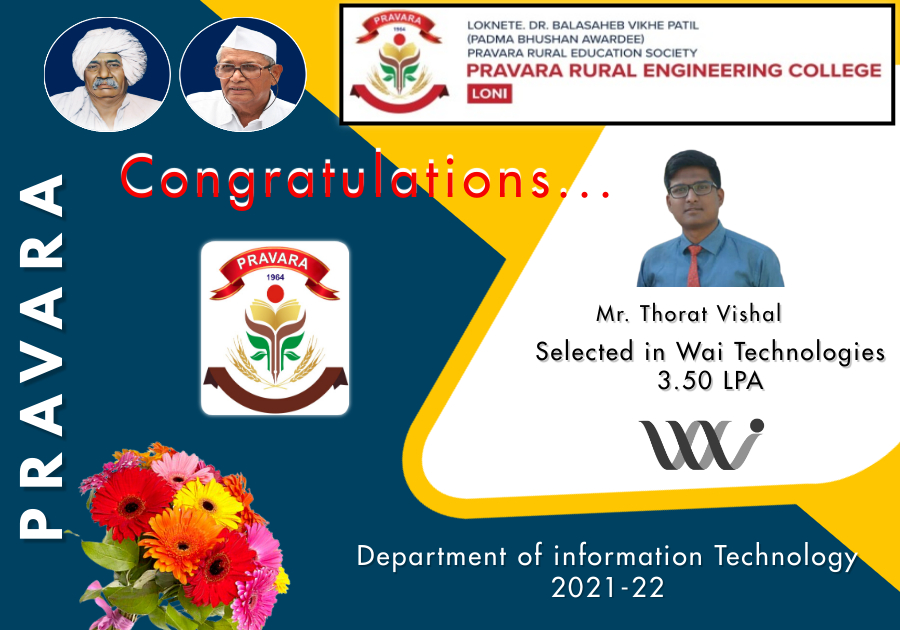 Congratulations!!

Congratulations!!

Congratulations!!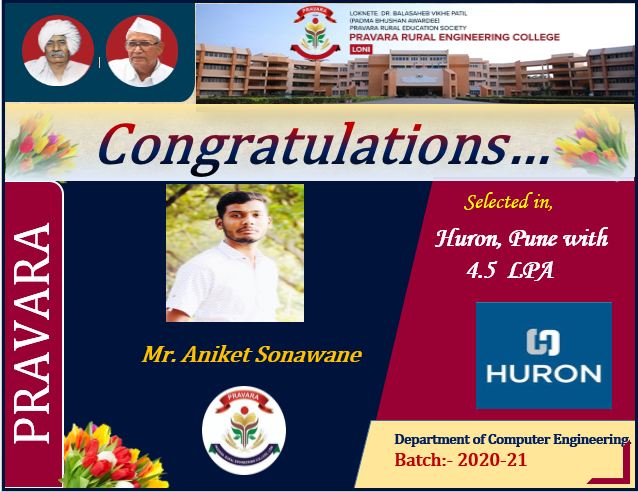 Congratulations!!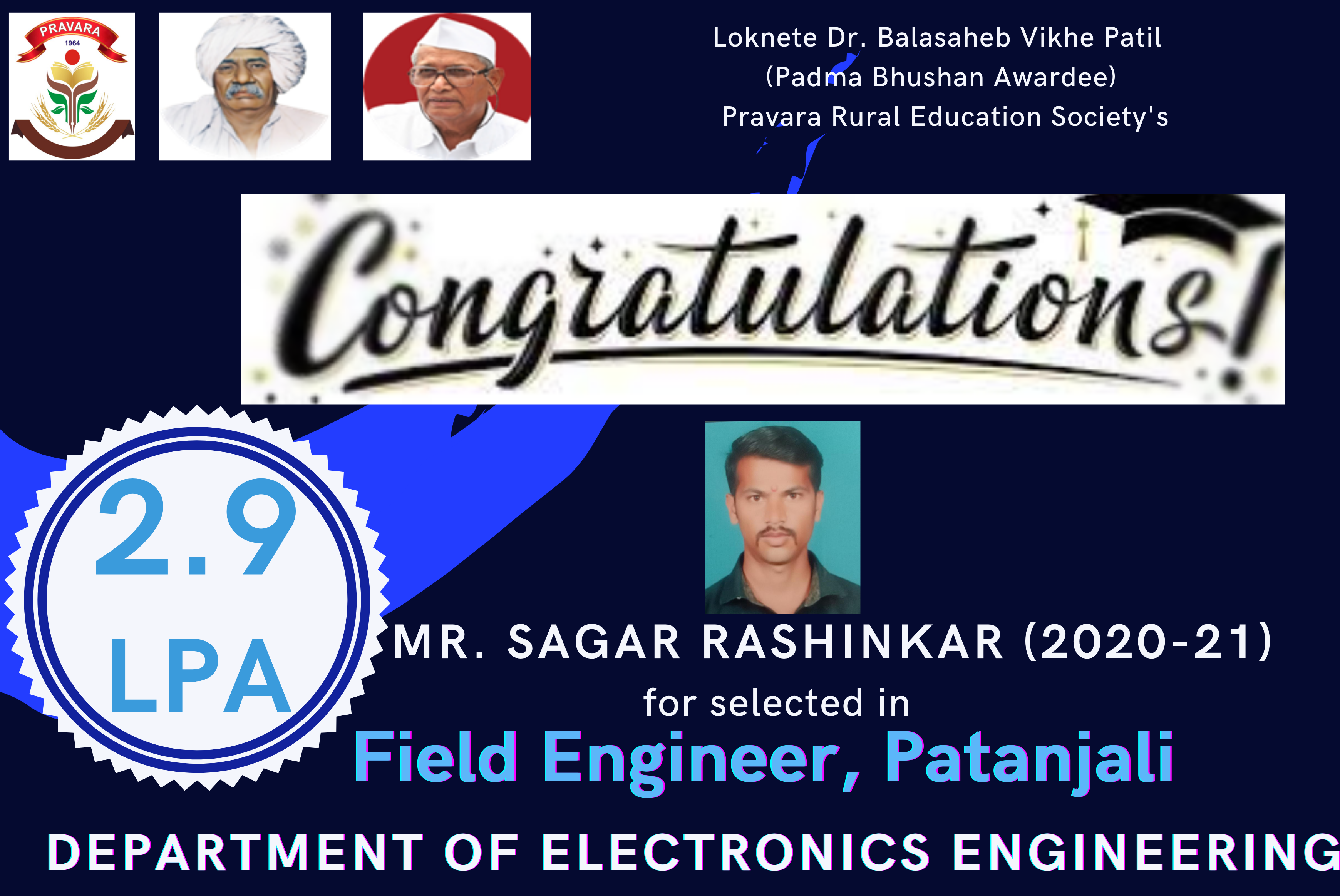 Congratulations!!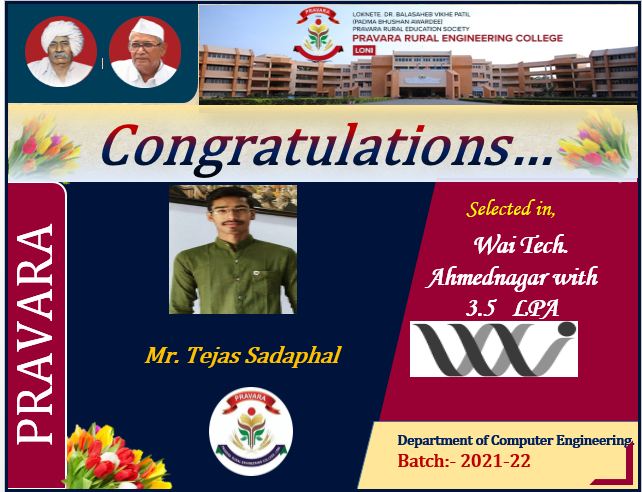 Congratulations!!

Congratulations!!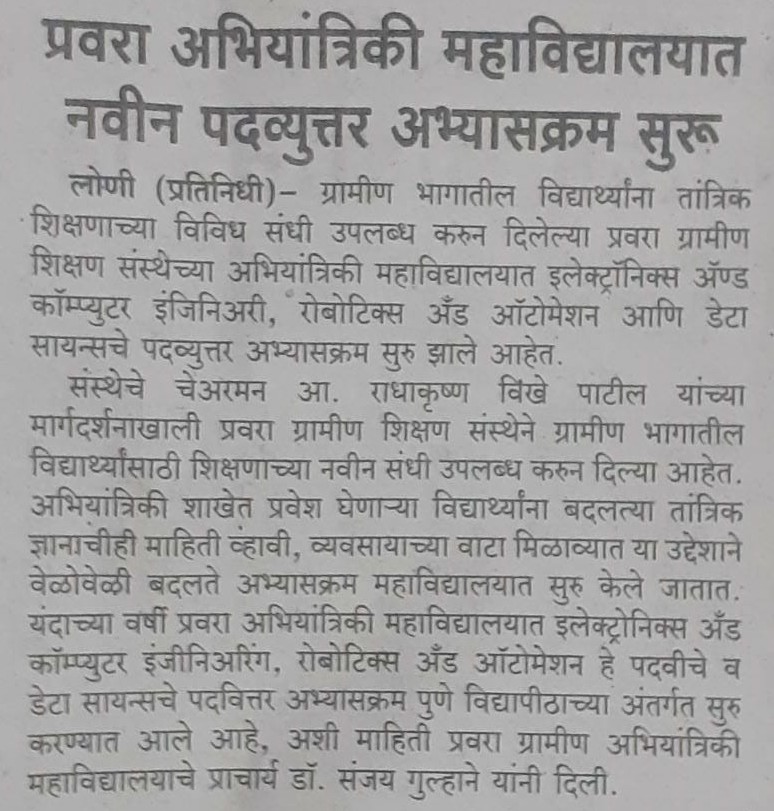 Congratulations!!

Congratulations!!

Congratulations!!

Congratulations!!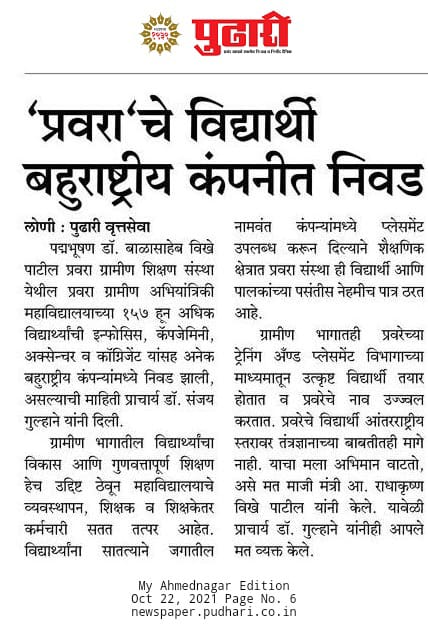 Congratulations!!

Congratulations!!

Congratulations!!

Congratulations!!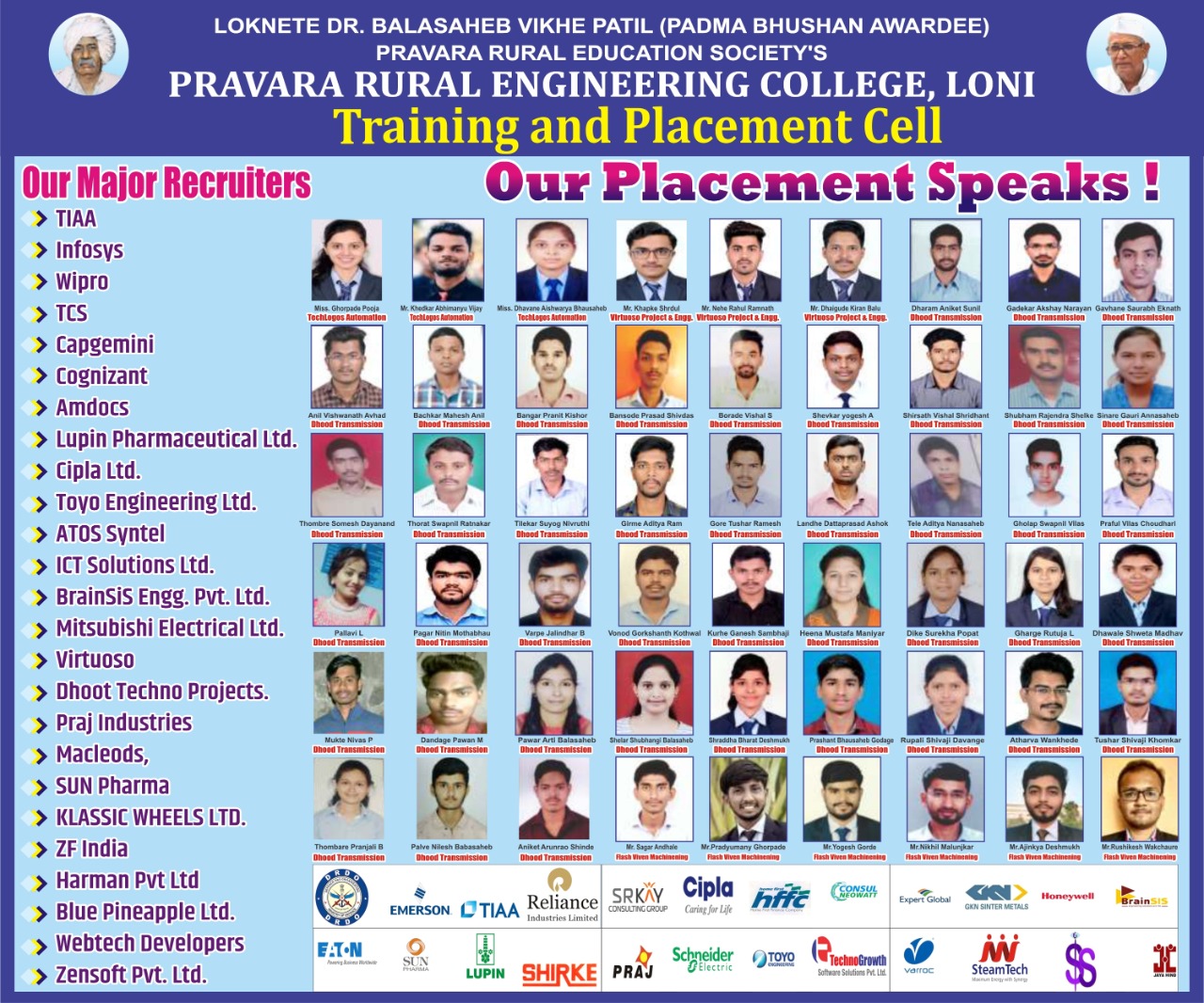 Hearty Congratulations!! to

Mr.Raut Vishnu
Mr.Shendge Rahu
From Instrumentation & Control Engineering Batch 2019-20 got selected in Orgate Automation Pvt.Ltd.Pune
Hearty Congratulations!! to

Mr.Gund Gokul
Mr.Paraj Shirsath
Mr.Om Khupse
Mr.Shardul Khapke
From Instrumentation & Control Engineering Batch 2019-20 got selected in Pretech Automation Pvt.Ltd.Pune as "Assistant Engineer-Projects" with package of 2.0 LPA
Congratulations!!

Mr.Gautam Balasaheb Bhonde 2019-20 batch Electronics Engineering for Selection in Ever Electronics Private Limited Koregaon Bhima
Congratulations!!

Mr. Deshmukh Vaibhav Devidas
Mr.Ahirrao Jayesh Dilip
Mr.Gawali kiran babasaheb
2019-20 Batch Chemical Engineering for Selection in Gujarat Ambuja Exports Ltd Chalisgaon with 1.68 LPA
Congratulations!!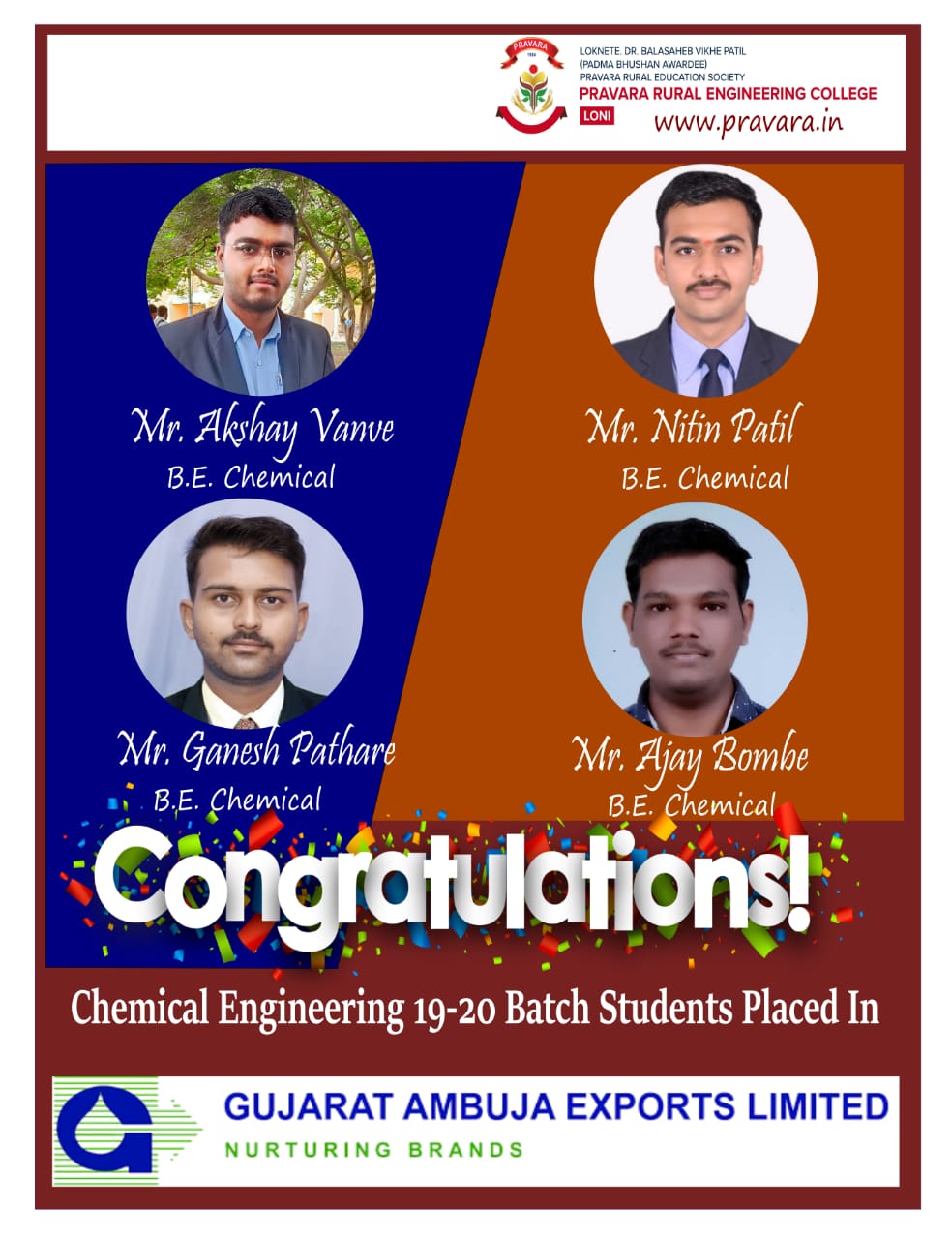 Congratulations!!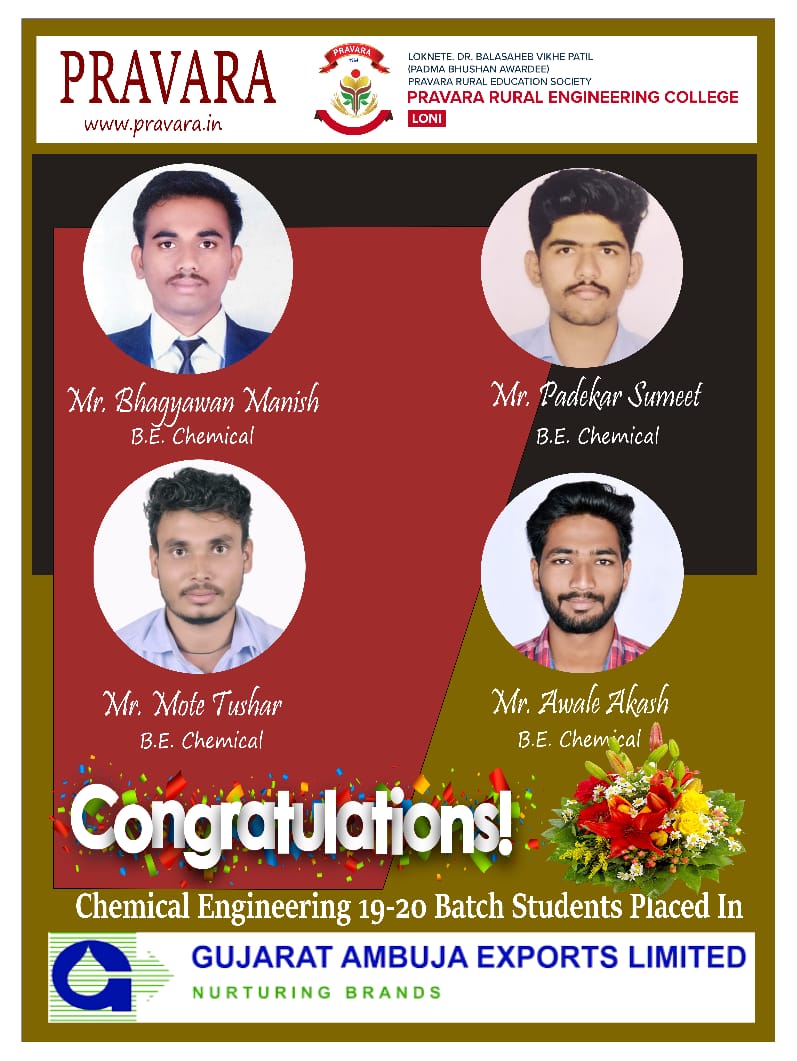 Congratulations!!

Congratulations!!

Congratulations!!
Mr.Sagar Andhale
Mr.Pradyumany Ghorpade
Mr.Yogesh Gorde
Mr.Nikhil Malunjkar
Mr.Ajinkya Deshmukh
Mr.Rushikesh Wakchaure
from Mechanical Engineering Department (19-20 Batch) For selection in Flash Viven Machining Technologies, Chakan Pune with LPA 2.0LPA
Congratulations!!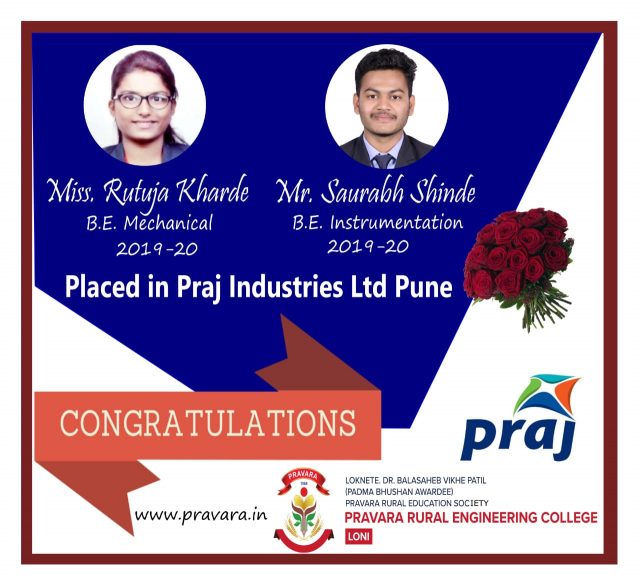 Congratulations to
Mr. Omkar Upadhye, B.E. Electronics,
Congratulations to
Mr. Gaurav karande, Mr. Saniraj Mhaske, Mr.Akshay Gavhane from BE Chemical placed in LUPIN PHARMA Bhoisar Tarapur with 3.6LPA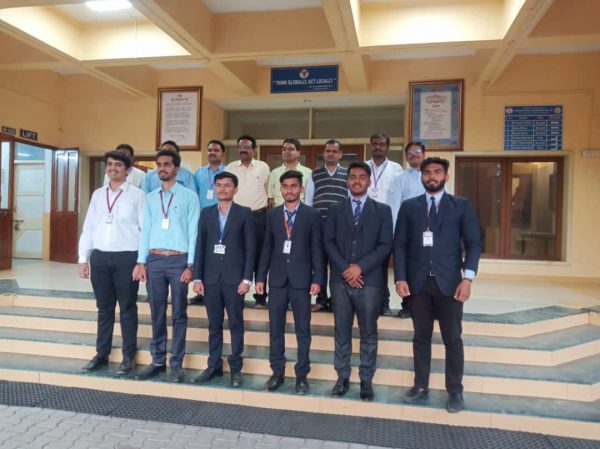 Congratulations to
Mr. Mahesh Shelke, B.E. Computer, Batch 2019-20, Miss. Disha Jadhav , B.E. Computer, Batch 2019-20, Miss. Tejashree Sable , B.E. Computer, Batch 2019-20, Miss. Pratima Kharde , B.E. Computer, Batch 2019-20, Miss. shital Dahiwal , B.E. I.T., Batch 2019-20, Mr. Yogendra Mandhare , B.E. I.T., Batch 2019-20, Mr. Rahul Amte , B.E. Mechanical, Batch 2019-20, Mr. Sagar Gopale , B.E. Mechanical, Batch 2019-20, for being Placed in Infosys.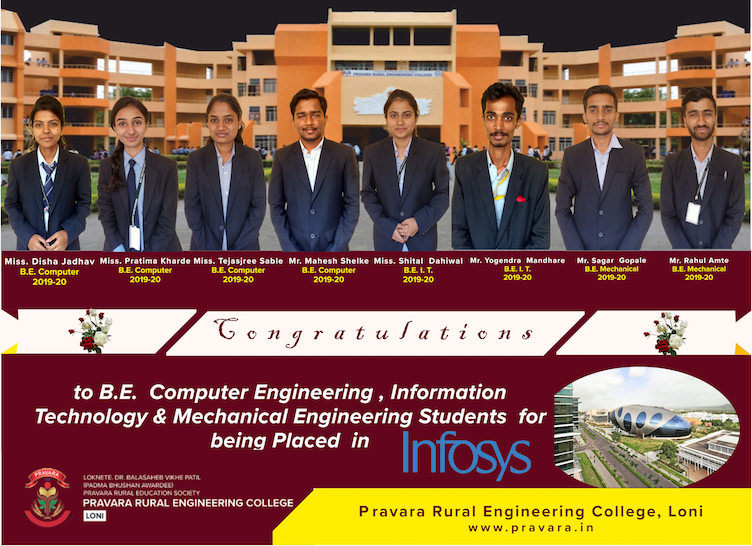 Campus Drive
Virtuoso Projects and Engineers Pvt. Ltd.
Date: Friday, January 10, 2020
Time: 9:00am To 05:00pm
Venue: Pravara Rural Engineering College, Loni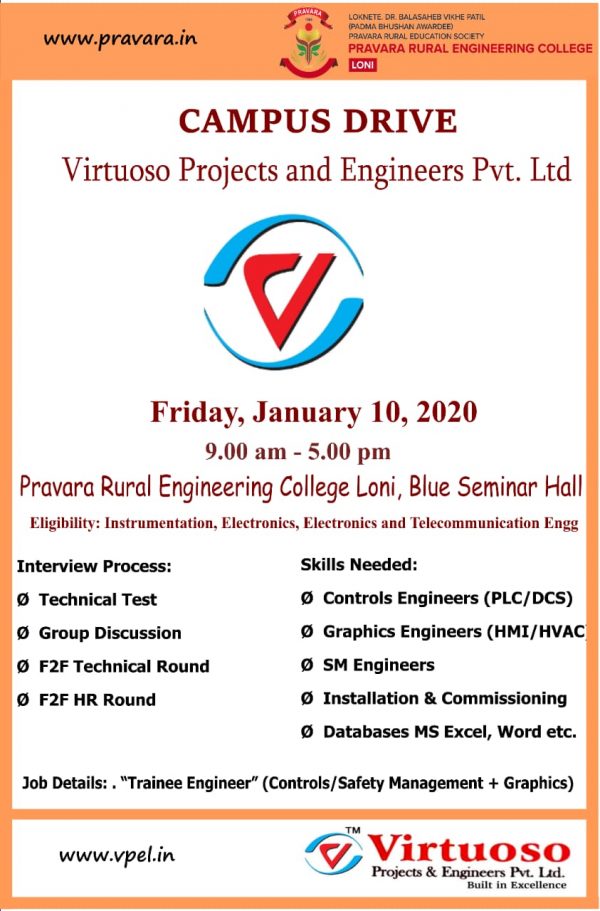 Pool Campus Drive
Fix Solutions Nashik
Date: Monday 13, January 2020
Time: 09:00 Onwards
Recruitment Drive
Elctronet Equipments Pvt. Ltd, Pune
Date: 5th January, 2019
JOBFAIR
Organized by Training and Placement Cell, P.R.E.C. Loni
Date: 23rd December 2019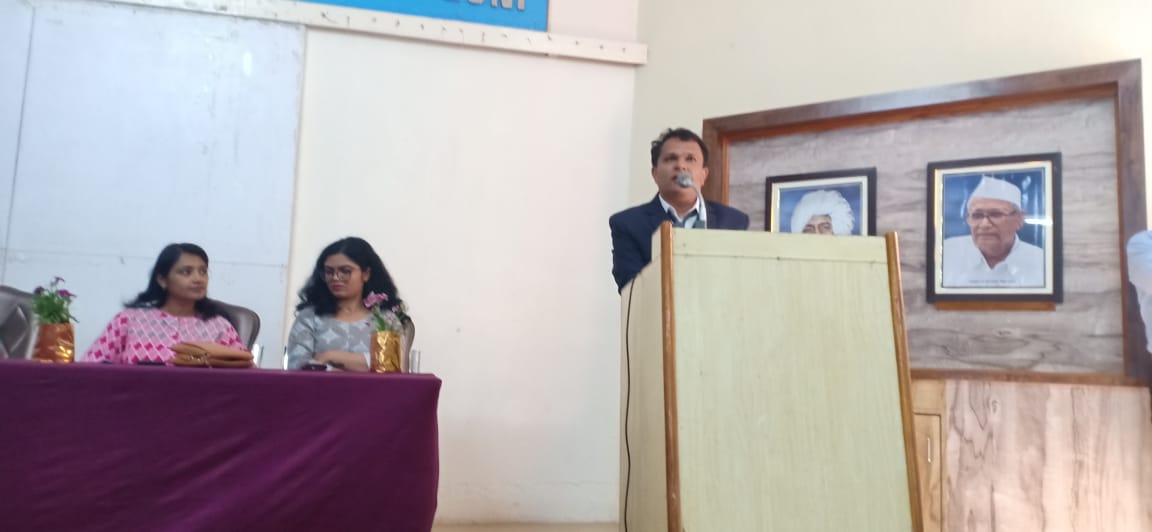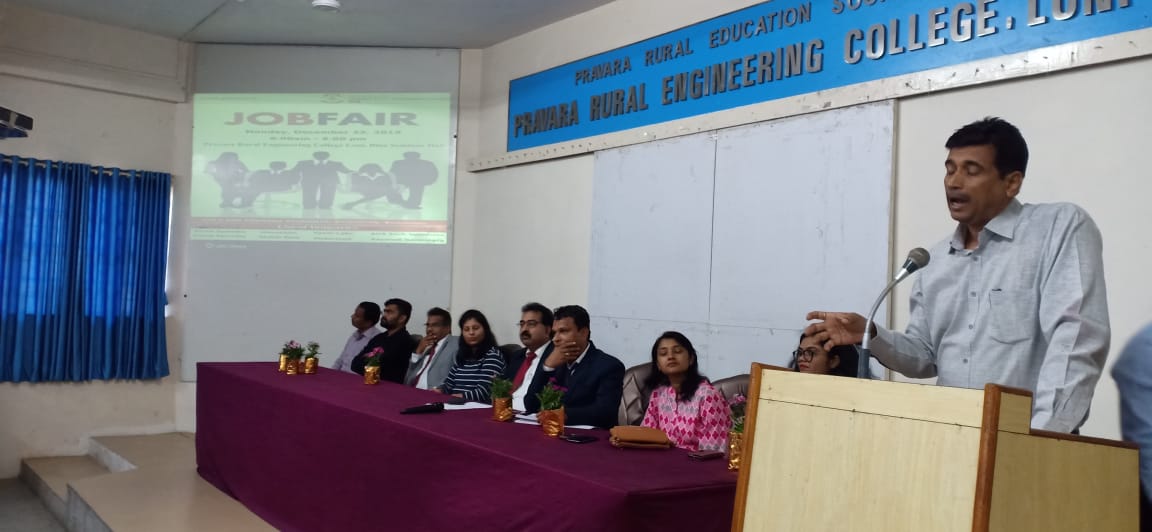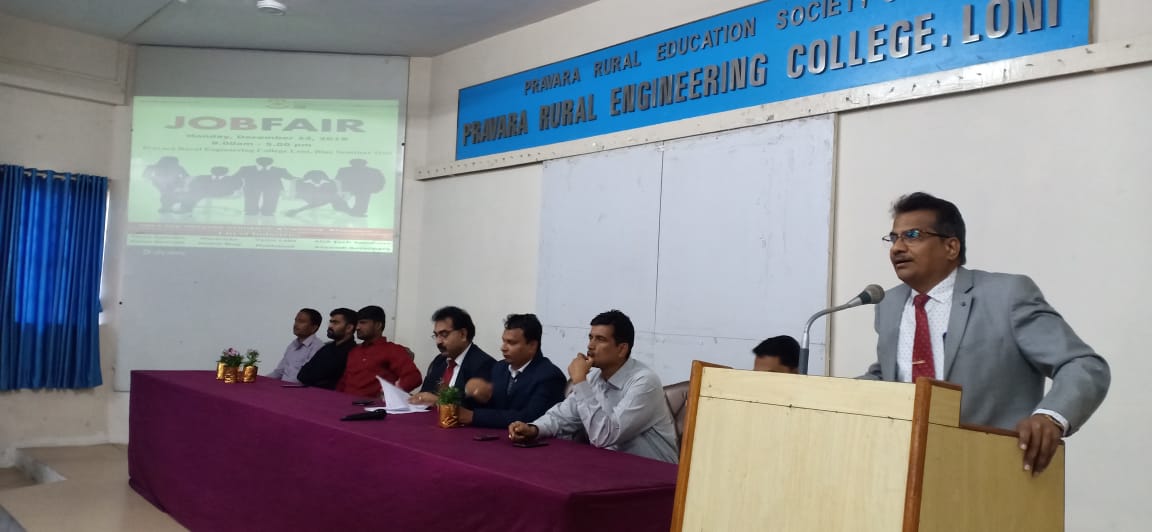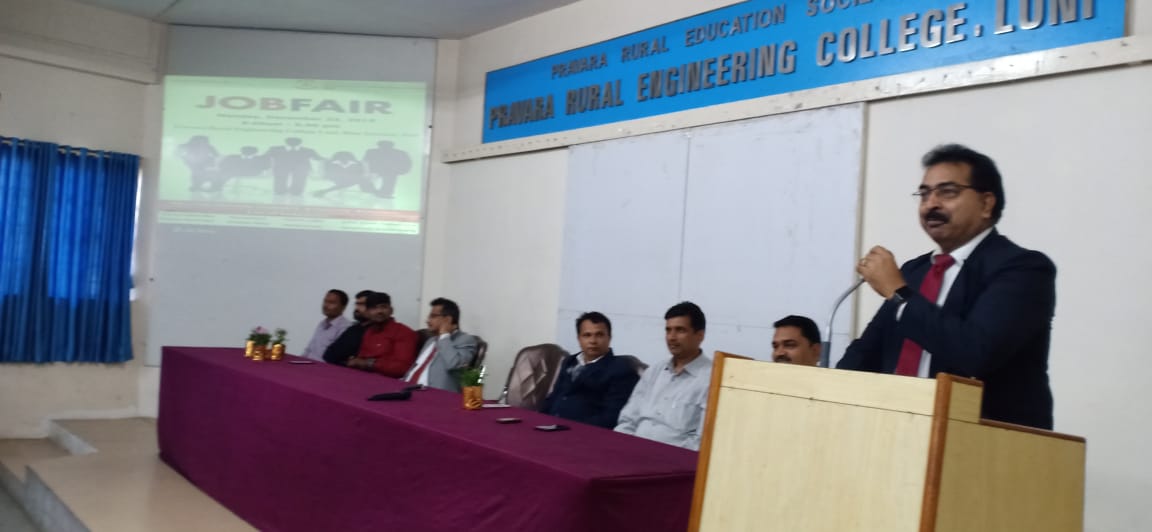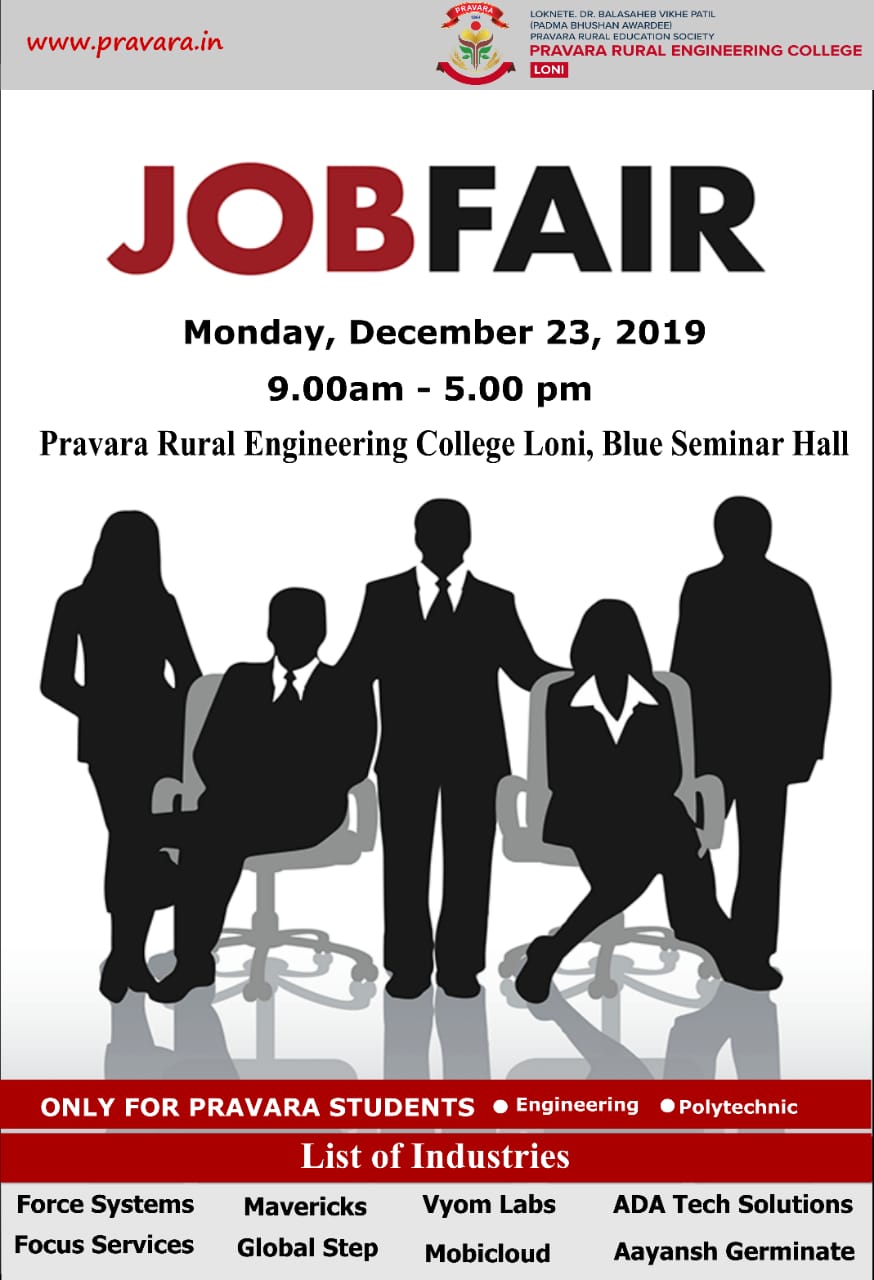 Activities Organized
Placement Assistance
Industrial Visits
Soft Skills Development Programme
Expert Lectures/Workshops
Entrepreneurship Awareness Camp
Competitive Exam Cell
Industry -Institute Interaction
Sponsored Projects in the industry
Training in the industry
Value Added Courses