About Us
BUILDING FITNESS & SPORTSMANSHIP
Pravara College of Physical Education, Pravaranagar develops the values of fitness and sportsmanship to nurture a physically and psychologically healthy generation.
Pravara College of Physical Education, Pravaranagar began imparting education for building and maintaining fitness in 1992. The number of students has steadily expanded from 87 in 1992 to 118 in 2018-19.
Health is the fundamental requirement for success, and this is precisely our guiding principle. Armed with vibrant infrastructure – gym, sports grounds, athletics court, swimming pool, and a well stocked library, we ensure that students use the correct technique and state-of-the-art equipment for appropriate and sustained fitness.
Moreover, we offer scholarships and free ships as per government regulations. College students have regularly participated in National Level sports events and many of our alumni have made their mark as sports coaches and members of the Indian Army.
As many as 122 of our students have been placed in various institutions over the last 5 years with 49 being placed in 2018-19. That apart, many of the college's faculty are involved in highlighting the technical and practical aspects of physical training by writing papers.
Facilities
Outdoor Sports
Kho-Kho
Vollyball
Football
Cricket
Handball
400 meter Track
Swimming Pool
Indoor Sports
Badminton Court
Table Tennis Court
Shutting Range
Gymnasium
Internet Connectivity
Library
3684 Books
International and national journals
Our Vision
To enable wealth through health and sportsmanship, and to spread the message of the importance of health and physical activity across professions and communities in the society.
Our Mission
TTo build leaders in physical education, sports management, recreation, and sports coaching with the capacity to successfully take on complex local and global challenges.
It is my great pleasure to inform you that Pravara College of physical education has started by Hon'ble Padmabhushan Dr.Balasaheb Vikhe Patil in 1992 by his great vision towards maintaining physical fitness of the society as well as masses the Chairman Radhakrishna Vikhe Patil an eminent educationist always inspiring and guide us to promote education. Today college has high contribution in the field of Physical education and physical activity with training using modern tools and tequeniques of skillful generation by using modern technology.
College has vast contribution to maintain the physical fitness. We people are very busy in the mental wort, no one can do physical exercise, but our college providing on opportunity to the teacher and student to me and my faculty members to co-up with advance world in the field to physical education, we always taking every step to strength our supremacy in the academic and physical educational research to build healthy nation.
Once again thanking you.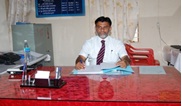 Prof. Ambre Vijay Nanasaheb
Mobile: 9890188082