Engineering
Information And Technology Department
Information Technology (IT) department at the Sir Visvesvaraya Institute of Technology (SVIT) was set up in 2009 with the objective of enabling engineers harness the infinite opportunities created by the rapid and sustained expansion of the global IT sector.
Through excellence in research and teaching, our dedicated faculty has distinguished itself in the core areas of information technology. The department organizes various value added courses such as .NET, JAVA, DB2 etc., to improve the global competence of students in software development, information technology, and information-technology enabled services (ITES).
Project implementation is a part of the curriculum which helps students expand their real world knowledge. Plus, the department conducts multiple technical and non-technical events to nurture the technical thirst and competitive spirit of students.
In keeping with the Pravara Group's commitment to social responsibility, the department has been organizing "Ankur – Ek Navi Suruvat," i.e. "Ankur – A New Beginning," a social event for orphan students since 2013-14.
INFORMATION TECHNOLOGY STUDENT ASSOCIATION(ITSA)
Organized National Level Technical Event " EXEBURENCE - 2012"
Organized Social Event " Ankur…Ek navi Suruvat"
Organized a social event for farmers who suffering from Draught.
Celebrating Teachers Day, Engineers Day, Fresher's Party and Farewell every year.
| Branch Name | Course Name | Intake | Establishment Year |
| --- | --- | --- | --- |
| BE | Information Technology | 60 | 2009-2010 |
Laboratories and Equipment
PL LAB
Dual boot operating system.
Windows 8.1 legal operating systems. (64 bit)& fedora 19(64 bit).
Turbo C, xampp, mongo db, mysql, eclipse ,etc.
SW LAB
Dual boot operating system.
Windows 8.1 legal operating systems. (64 bit)& ubuntu 14(64 bit).
MULTIMEDIA LAB
Digital trainer kit.
Digital IC tester.
Our Vision
To facilitate the development of highly competent, skilled and intellectual IT professionals, especially from the rural areas of Maharashtra, who enable prosperity by addressing the present and future needs of society and leading the nation.
Our Mission
To mould students into innovative and high quality IT professionals to meet global challenges.
To achieve effective interaction between industry and institution for mutual gain.
To provide technical solutions in Information Technology to local areas.
To provide an atmosphere for students and faculty for continuous learning, investigation, and the application and transfer knowledge.
To promote awareness of entrepreneurship among students.
Year
Class
Result
2017-18

SE

TE

BE

4:00%

58.00%

85.71%

2016-17

SE

TE

BE

20.00%

55.00%

95.34%

2015-16

SE

TE

BE

40.00%

25.50%

81.15%

2014-15

SE

TE

BE

16.66%

85.71%

100.00%

2013-14

SE

TE

BE

21.15%

25.37%

95.45%

2012-13

SE

TE

BE

4.68%

45.94%

80.64%
Year
Class
Name of Topper
Result
2017-18

SE

TE

BE

Joshi Prathamesh Jagannath

Kalkatte Poorva Babasaheb

Kulkarni Yashashri Mahendra

8.4(SGPA)

8.23(SGPA)

75.40%

2016-17

SE

TE

BE

Kalkatte Poorva Babasaheb

Kulkarni Yashashri Mahendra

Salve Pallavi Kacharu

8.26(SGPA)

67.20%

77.20%

2015-16

SE

TE

BE

Yashashri Kulkarni

Salve Pallavi

Rajput Rakhi

67.06%

63.66%

74.40%

2014-15

SE

TE

BE

Gangwal Koyal Rajkumar

Milani Hitesh Lalchand

Tadge Jagruti Mukund

56.06%

64.93%

70.00%

2013-14

SE

TE

BE

Kadu Rushikesh Vilas

Rajput Rakhi Karansingh

Pawar Pooja Bhagwat

62.80%

63.33%

70.93%

2012-13

SE

TE

BE

Ekta Nehlani

Datta Sagorika & Thorat Pooja

Walunj Vidya Vishwanath

58.06%

63.6%

67.46%
Program Educational Objectives (PEOs)
To provide students with good breadth of knowledge in mathematical, scientific, computing and basic engineering fundamentals necessary to formulate, analyze and solve hardware/software engineering problem and/or also to pursue advanced study or research.
To educate students with proficiency in core area of information technology and related engineering so as to comprehend engineering trade-offs, analyze, design, and synthesize data and technical concept to create novel product solutions for the real life problems.
To instill in students a sense of high professionalism, to work as part of team on multidisciplinary projects and diverse professional environments, needed for a successful professional career and relate engineering issues to the society, global economy and engineering issues to the society, global economy and to emerging technologies.
To provide our students with a learning environment consciousness of the life-long learning process, to develop effective oral and written communication skills and to introduce them to written ethical codes and guidelines, show leadership and entrepreneurship and exhibit good citizenship.
Program Specific Outcome (PSOs)
Graduate of programme having ability to represents the fundamentals and functioning of the information technology perspective related to automatic data processing system.
Graduate of programme should be able to use proficient engineering praxis & strategy for the build out, maintenance and testing of software solutions.
Graduate of programme should be able to provide irrefutable and cost efficient real time solutions using savoir faire in IT domain.
Program Outcomes:
Engineering knowledge
Apply the knowledge of mathematics, science, engineering fundamentals, and engineering specialization for the solution of complex engineering problems.
Problem analysis
Identify, formulate, review research literature, and analyze complex engineering problems for drawing substantiated conclusions using first principles of mathematics, natural sciences, and engineering sciences.
Design/development of solutions
Design solutions for complex engineering problems and design system components or processes that meet the specified needs with appropriate consideration for the public health and safety, as well as for cultural, societal, and environmental considerations.
Conduct investigations of complex problems
Use research-based knowledge and methods including design of experiments, analysis and interpretation of data; and synthesis of the information to provide valid conclusions.
Modern tool usage
Create, select, and apply appropriate techniques, resources, and modern engineering and IT tools including prediction and modeling to complex engineering activities with an understanding of the limitations.
The engineer and society
Apply reasoning informed by the contextual knowledge to assess societal, health, safety, legal and cultural issues and the consequent responsibilities relevant to the professional engineering practice.
Environment and sustainability
Understand the impact of the professional engineering solutions in societal and environmental contexts, and demonstrate the knowledge of, and need for sustainable development.
Ethics
Apply ethical principles and commit to professional ethics and responsibilities and norms of the engineering practice.
Individual and team work
Function effectively as an individual, and as a member or leader in diverse teams, and in multidisciplinary settings.
Communication
Communicate effectively on complex engineering activities with the engineering community and with society at large, such as, being able to comprehend and write effective reports and design documentation, make effective presentations, and provide and receive clear instructions.
Project management and finance
Demonstrate knowledge and understanding of the engineering and management principles and apply these to one's own work, as a member and leader in a team, to manage projects, and in multidisciplinary environments.
Life-long learning
Recognize the need for, and have the preparation and ability to engage in independent and life-long learning in the broadest context of technological change.
Student Co-curricular Achievements
Shrishti Pekhale
First Prize, "ACDP 2K19" – National Level Conference,
February 2019, SVIT, Nashik
Sahil Deshpande
Best Volunteer Award, Social Event
September 2018, IMAT Nashik
Yashodip Shete
20th Prize, Competition on the topic "To Be Or Not To Be"
February 2019, KK Wagh COE, Nashik
| Name | Designation | Qualification | Total Experience |
| --- | --- | --- | --- |
| Mr.Rushikesh S. Bhalerao | HOD & Assistant Professor | ME(Computer Engineering ) | 7 Yrs. |
| Ms.Pratibha V. Kashid | Assistant Professor | B.E. Computer Engineering, M.E. Software System | 10.9 Yrs. |
| Ms.Shital S. Patil | Assistant Professor | B.E. Computer Engineering, M.E. Software System | 9 Yrs. |
| Ms.Jayshree P. Shinde | Assistant Professor | B.E. Information Technology, M.E. Computer Science & Engineering | 13.3 Yrs. |
| Ms.Sweety G. Mahajan | Assistant Professor | B.E. Computer Engineering, M.Tech. Computer Science | 8.9 Yrs. |
| Ms.Archana R. Ghuge | Assistant Professor | B.E. Computer Engineering, M.E. Computer Engineering | 6 Yrs. |
| Mr.Dinesh B. Ghorpade | Assistant Professor | B.E. Computer Engineering, M.E. Computer Engineering | 3 Yrs. |
| Ms. Kiran R. Chaudhari | Assistant Professor | B.E. Computer Engineering, M.E. Computer Engineering | 3 Yrs. |
| Mr. Jorwekar Y. Sunil | Assistant Professor | B.E. Computer Engineering, M.E. Computer Engineering | 7 Yrs. |
| Mr.Shingote P.S. | Technical Assistant | Diploma in Computer Technology, B.E (Pursuing) | 6 Yrs. |
| Mr.Vasant Nawale | Peon | S.S.C | 10 Yrs. |
HOD Desk's
The Department of Information Technology was started in the year 2009. After suffering a global economic downturn, the IT and software industry have shown positive signs of recovery, which has necessitated the future planning of Educators / trainers in computer education.
The department of Information Technology started with an intake of 60. There has been corresponding increase in the staff size over the last few years filling critical needs in the introductory course, communication, advancement, technical support for research. Through excellence in research, teaching and service our dedicated faculties have distinguished in the core areas of Computer and in multi- disciplinary areas.
The students get opportunities to excel in their academic achievements. The future holds many challenges. Apart from the regular curriculum the department strives to develop the students into intellectual prodigy. The state of art laboratories facilitate the students to undergo Programming lab, Software Lab, Graphics Lab, Microprocessor Lab, Networks Lab, Operating System Lab, etc. with zeal and charm.
The architecture of the computers that we deal with every day is changing- multi-core processor replacing the single CPU / single core desktop. The department arranges various value added courses like .NET, JAVA, DB2 etc., for the students so that they compete with the outside world. The department started various technical and non-technical events are conducted. Events such as Seminars, Paper presentation, Debate, Group Discussion nurture the technical thirst and inbuilt competitive spirit.
For the students to enhance their knowledge project is implemented in the curriculum. Projects of national and global importance in science and engineering seek Information Technology as an essential means of advancement and service. Our faculty and staff members work tirelessly to provide flexible, attractive and relevant education to generate the workforce capable of meeting these varied challenges.
With these preface I am sure and confident that the students of the department will imbibe these and work hard to excel.
We welcome you to browse the department website, whether you are a student, parent, alum, a corporate partner, or a colleague, we want to hear from you. Your comments and suggestions will help us to move next level and provide us with encouragement and excellence.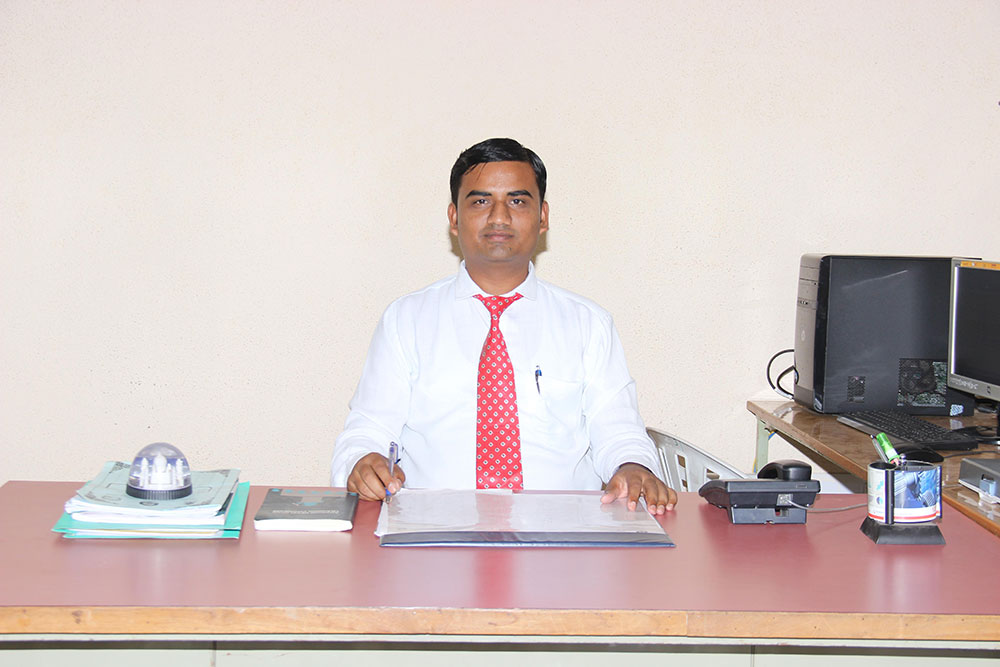 Prof. R.S.Bhalerao(Asst. Professor), HOD
M. E (Computer Engineering)
Sneha Mande (2012-13 batch)
Senior Developer,
Winjit Technologies, Pune
Jitendra Tiwari
Android Developer,
Deloitte Pvt. Ltd., Mumbai
Arpit Paliwal
Program Analyst,
Cognizant, Pune
Placement
39 students placed in last 5 years.

Recruiters
Infosys
Cognizant
Accenture
Wipro
L & T Infotect
HCL Technologies
ESDS
Winjit Technologies
Synechron
Eternus Solutions