Engineering
Mechanical Department
Mechanical Engineering Department at the Sir Visvesvaraya Institute of Technology (SVIT) strives to create mechanical engineers geared to breeze through the challenges unleashed by the present age of rapid technological evolution.
Department operates an Under Graduate (UG) course with an intake of 60 since 1998 and a Post Graduate (PG) course in Design with an intake capacity of 18 since 2011. With a focus on overall personality development of students, we have created numerous university rankers and a track record of exceptional placements.
Information about student association(MESA)
Constitution:
Article 1: STATEMENT OF PURPOSE
The organization is responsible for the governing of the student affairs within the Department of Mechanical Engineering at SVIT CHINCHOLI, shall be known as the Mechanical Engineering Students' Association (hereafter referred to as MESA).
Article 2: OBJECTIVES OF MESA
To focus on the cutting edge technology and present it to the students in an interesting manner by means of lectures/talks, magazine articles, workshops, industrial trips etc.
Promoting the interests of students in various technical areas pertaining to mechanical engineering.
Giving relevant information to students to sustain their interest in their field-specific applications of ME.
Providing students of the department with relevant knowledge of inter-disciplinary subjects, given the broad domain of ME.
To spread awareness among the students about the scope for various career options.
To convey timely information to students on the various research opportunities for internships and higher studies available in India and abroad.
To act as an interface between the students and the faculty and strive for improvement in student-faculty interaction.
Providing a platform for interaction between senior and junior students of the department by organizing social gatherings like freshers' welcome and farewell to the passing out batches.
Interacting with other technical societies, within and outside the institute to promote flow of knowledge.
To promote the interaction between academia and industry by organizing industrial trips, special lectures and facilitate in industrial training.
Article 3: MEMBERSHIP
Eligibility: All students registered in the engineering undergraduate/Postgraduate/PhD program in the department of Mechanical Engineering at the SVIT CHINCHOLI, are eligible for membership.
| Branch Name | Course Name | Intake | Establishment Year |
| --- | --- | --- | --- |
| BE | Mechanical Engineering | 120 | 1997-1998 |
| ME | Mechanical Engineering | 18 | 2010-2011 |
Laboratories
I.C. Engine Lab
CAD-CAM Lab
Heat Transfer
Fluid Mechanics Lab
Fluid Machinery Lab
Dynamics of Machinery Lab
Theory of Machines Lab
Metallurgy Lab
Metrology Lab
Basic Mechanical Engineering Lab
Our Vision
To enable prosperity by nurturing globally competent mechanical engineers.
Our Mission
To impart quality education and complex problem solving skills to enable students to take up global challenges and execute the role and responsibilities of professional mechanical engineers towards society.
Year
Class
Result
2017-18

SE

TE

BE

76.15%

89.28%

77.59%

2016-17

SE

TE

BE

83.00%

81.00%

97.00%

2015-16

SE

TE

BE

64.00%

74.00%

74.00%

2014-15

SE

TE

BE

90.00%

93.00%

92.00%

2013-14

SE

TE

BE

74.00%

66.00%

83.00%
Year
Class
Name of Topper
Result
2017-18

SE

TE

BE

Waje Shivani Baban

Deokar Ashish Bhausaheb

Shelke Krushna Vishwas

7.80 (SGPA)

8.30 (SGPA)

9.45 (SGPA)

2016-17

SE

TE

BE

Lagad Mayur Ramdas

Yogender Singh Bhati

Bharambe Kiran Pitambar

7.38 (SGPA)

74.87%

79.07%

2015-16

SE

TE

BE

Rajput Bajrang

Shinde Mahesh M.

Ahire Deepak N.

73.33%

70.60%

79.93%

2014-15

SE

TE

BE

Ahire Deepak Narayan

Patil Amit Ramesh

Tile Jagdish Chintaman

77.47%

67.46%

76.00%

2013-14

SE

TE

BE

Tile Vishal Bhausaheb

Tile Jagdish Chintaman

Sonawane Rahul R

65.33%

73.54%

74.00%
Program Educational Objectives (PEOs)
To provide opportunity to the students to expand their horizon beyond mechanical engineering.
To inculcate values & ethics, leadership and team work skills, bring holistic development of personality and to promote entrepreneurial thinking among students.
To educate students with the principles of Mechanical engineering, so that graduates will able to design mechanical systems containing functionality, aesthetics, safety, cost effectiveness and sustainability.
To create awareness amongst the students towards social, environmental and energy related issues.
Program Outcomes:
Engineering knowledge
Apply the knowledge of mathematics, science, engineering fundamentals, and engineering specialization for the solution of complex engineering problems.
Problem analysis
Identify, formulate, review research literature, and analyze complex engineering problems for drawing substantiated conclusions using first principles of mathematics, natural sciences, and engineering sciences.
Design/development of solutions
Design solutions for complex engineering problems and design system components or processes that meet the specified needs with appropriate consideration for the public health and safety, as well as for cultural, societal, and environmental considerations.
Conduct investigations of complex problems
Use research-based knowledge and methods including design of experiments, analysis and interpretation of data; and synthesis of the information to provide valid conclusions.
Modern tool usage
Create, select, and apply appropriate techniques, resources, and modern engineering and IT tools including prediction and modeling to complex engineering activities with an understanding of the limitations.
The engineer and society
Apply reasoning informed by the contextual knowledge to assess societal, health, safety, legal and cultural issues and the consequent responsibilities relevant to the professional engineering practice.
Environment and sustainability
Understand the impact of the professional engineering solutions in societal and environmental contexts, and demonstrate the knowledge of, and need for sustainable development.
Ethics
Apply ethical principles and commit to professional ethics and responsibilities and norms of the engineering practice.
Individual and team work
Function effectively as an individual, and as a member or leader in diverse teams, and in multidisciplinary settings.
Communication
Communicate effectively on complex engineering activities with the engineering community and with society at large, such as, being able to comprehend and write effective reports and design documentation, make effective presentations, and provide and receive clear instructions.
Project management and finance
Demonstrate knowledge and understanding of the engineering and management principles and apply these to one's own work, as a member and leader in a team, to manage projects, and in multidisciplinary environments.
Life-long learning
Recognize the need for, and have the preparation and ability to engage in independent and life-long learning in the broadest context of technological change.
Mechanical Engineering Student's Association (MESA)
To promote academia-industry interaction through expert lectures and industrial training.
To promote the interests of students in various technical areas of mechanical engineering.
To encourage Mechanical Engineering students to develop personal skills such as event management and time management via intra and inter college events.
To bring about the technical development of students by organizing seminars, workshops and other activities.
Society of Automotive Engineers (SAE)
For academic year 2017-18, SAE Collegiate chapter involved 58 student members. Students form the Counseling Body, while the Head of Department is the Vice President of collegiate club. One of the staff members is Staff Advisor of SAE club, while dynamic and energetic students are selected for post of Treasurer and Event Manager.
SAE organizes different activities throughout the academic year such as:
SAE Opening
Motor GP (Car Racing)
Robo Racing
Industrial Visit
Technical Paper Presentation
SUPRA (Virtual Competition)
SAE Closing
Student Co-curricular Achievements
Mayur Mahajan & Gaurav Nisal
9th Prize, SAE Efficycle Project, November 2017
Society of Automotive Engineers at Lovely Professional University, Punjab
Student Academic Achievements
Vasim Shaikh
First Rank in SP Pune University, May 2009
| Name | Designation | Qualification | Total Experience |
| --- | --- | --- | --- |
| Prof.(Dr.)Santosh N. Shelke | H.O.D. & Professor | ME(Design Engg), Ph.D(Mech) | 19 Yrs. |
| Mr.Vijay L. Kadlag | Associate Professor | ME(Production),PhD(Pursuing) | 22 Yrs. |
| Dr. Ambadas D. Dongare | Associate Professor | ME(Design Engg), Ph.D(Mech) | 33.2 Yrs. |
| Mr.Ravindra S. Shelke | Assistant Professor | ME(Design Engg) | 16.3 Yrs. |
| Mr.Shivaji R. Chaudhari | Associate Professor | ME(Manufacturing),PhD(Pursuing) | 15 Yrs. |
| Mr.Balasaheb S. Vikhe | Assistant Professor | ME(Design Engg) | 10 Yrs. |
| Mr.Deepak M. Deshmukh | Assistant Professor | ME(Design Engg) | 09 Yrs. |
| Mr.Abhijit P. Sonawane | Assistant Professor | ME(Design Engg) | 6.8 Yrs. |
| Ms.Vinata M Gaidhani (Thete) | Assistant Professor | ME(Design Engg) | 06 Yrs. |
| Ms.Yogita M. Patil | Assistant Professor | ME(Design Engg) | 9 Yrs. |
| Mr.Sagar P. Walhekar | Assistant Professor | ME(Design Engg) | 6.5 Yrs. |
| Mr.Vitthal K. Khemnar | Assistant Professor | ME(Design Engg) | 8.1 Yrs. |
| Mr.Sanet P. Govind | Assistant Professor | M.S | 2.3 Yrs. |
| Mr.Suyog K. Vitnor | Assistant Professor | M.Tech(CAD/CAM-CAE) | 02 Yrs. |
| Mr.Rahul T. Bhole | Assistant Professor | M.E.(Design Engg) | 5.9 Yrs. |
| Mr.Avinash S. Jejurkar | Assistant Professor | ME(Design Engg),PhD(Pursuing) | 5.7 Yrs. |
| Mr.Sagar S. Wani | Assistant Professor | M.E(Heat Power) | 6.9 Yrs. |
| Mr. Gorakh M. Wani | Assistant Professor | M.E(Heat Power) | 7 Yrs. |
| Mr.Rahul H. Hodgar | Assistant Professor | ME(Design Engg) | 6 Yrs. |
| Mr.Sandeep B. Shejul | Assistant Professor | ME(Design Engg),PhD(Pursuing) | 4.9 Yrs. |
| Mr.Pravin G. Autade | Assistant Professor | ME(Design Engg),PhD(Pursuing) | 6 Yrs. |
| Mr.Sandip G. Bhosale | Assistant Professor | ME(Design Engg) | 6.1 Yrs. |
| Mr.Mahesh P. Kolhe | Assistant Professor | ME(Design Engg) | 4.5 Yrs. |
| Mr.Rishabh S. Ostwal | Assistant Professor | ME(Design Engg) | 2.10 Yrs. |
| Mr.Anil C. Mande | Assistant Professor | ME(Design Engg) | 6.7 Yrs. |
| Mr.R.P.Bhopale | Technical Assistant | ITI | 17 Yrs. |
| Mr.Udawant A | Technical Assistant | D.M.E. | 8 Yrs. |
| Mr.Y.A.Shinde | Technical Assistant | D.M.E. | 8 Yrs. |
| Mr.B.R.Pable | Peon | SSC | 20 Yrs. |
HOD Desk's
As mechanical engineering have great employability as well as challenges in current Scenario.
Department of Mechanical Engineering , SVIT provides excellent education platform to make our Mechanical engineer students ready to accept the challenges of the new era.
We have well qualified and experience teaching faculity ,well equipped modern laboratory ,computers with high configuration and newly developed software required by Mechanical Engineering.
We have excellent track of result with university toppers and excellent employability of very attractive packages.To develop the personality in all dimensions we have different organization like MESA.
We organized different Workshops, Seminars to enable them in Academics ,Technical and other fields.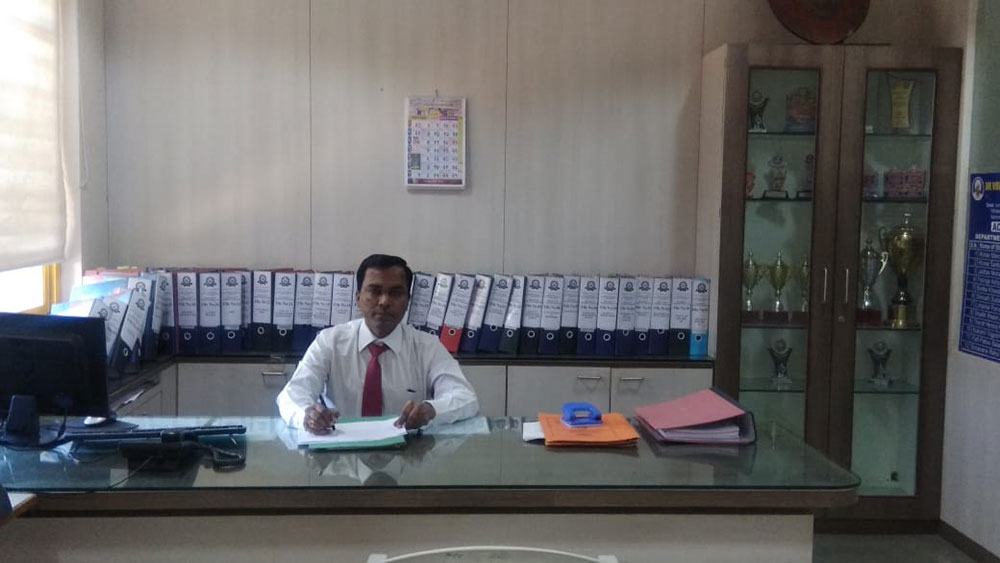 Prof.(Dr.)Santosh Shelke(Professor), HOD
PhD(NITW),ME(Design),BE(Mechanical) Member of ISTE,SM-HKSME, FISME, FISRD, FSIESRP.
Nilesh Jagtap
2003-04 batch
Sr. Manager, TATA Motors, Pune
Anay Kulkarni
2001-02 batch
Director, Precision Engineers, Nashik
Mahesh Patil
2001-02 batch
Chief Manager, Godrej & Boyce Mfg. Co. Ltd., Mumbai
Placement
160 students placed in last 5 years.

Recruiters
Emerson
Mahindra & Mahindra Ltd., Nashik
Bosch Chassis Systems India Pvt. Ltd
Piaggio Vehicles Private Limited
L-Cube Innovative Solutions Pvt. Ltd
KSB Pumps Ltd.
Yoonwoo Automobile India Pvt. Ltd
Pompeii Technologies Pvt. Ltd.