Padmashri Vikhe Patil (PVP) College of Arts, Science and Commerce, Pravaranagar is an ISO 9001:2008 certified college (2009) with a rich history of producing university toppers and award-winning faculty and students. Established in 1971 with 12 teachers instructing 110 students across 12 departments, we have grown to 147 teachers educating 2953 students in 25 departments in 2018-19.
Conventional education apart, we impart skill-based, vocational, value-based, and project-based learning. PVP is the only college effectively implementing the "Restructured Pattern" for undergraduate courses in Arts & Science faculties. PVP College operates 18 undergraduate, 15 post graduate, and 11 University Grants Commission (UGC)-sponsored career oriented courses.
Research is our byword – 40 of the 147 teachers are Ph.Ds! Plus our faculty has published 395 papers over the past 5 years and owns 2 patents. Also, we operate the Dr. A.P.J Abdul Kalam Science and Innovation Activity Centre plus the Design Innovation Centre. No wonder, we have received grants worth almost Rs. 4 crores from DST-FIST, UGC, and SP Pune University till date, while also winning multiple awards.
In tune with our founding father's emphasis on social responsibility, we run numerous welfare programs for the benefit of slow learners, economically weak students, and staff. Our environment friendly approach is reflected in the rainwater harvesting, biogas, solar PV system, sewage treatment, and solar water heating systems on campus.
Welfare Programs
Students Welfare Fund, Earn and Learn Scheme
Staff and Student Group Insurance
Student and Staff Welfare Fund
Student Scholarship for physically handicapped, socially and economically backward.
Pravara Institute for competitive Examination
Soft skill and computer literacy centre
Special Courses for slow and advanced learners
Hostel, Common room, and Health Centre for girls and boys
Security Department
Provident Fund Account and Staff Quarters
Our Vision
To enable prosperity by providing quality education in emerging fields to produce knowledgeable and cultured human resource, contributing to the process of national development.
Our Mission
To uplift rural masses through appropriate education.
To empower the socially, economically and educationally marginalized sections of the rural society of the region
To create a new generation of students for contributing to the future knowledge economy.
Core Values
Ethical Conduct
Gender Equity
Learning for Life
Quest for Excellence
Creativity and Innovation
Empowerment of Downtrodden Sections
Commitment towards Upliftment of Rural Masses
Develop Knowledgeable and Cultured Human Resource
Emblem
The precise and artistic emblem of the college symbolizes the philosophy and objectives of our college. 'Dyanmevamrutam' is the motto of our college. It means knowledge is as priceless as the elixir of life for the all-round development of mankind. The flame of the burning torch and the feather pen dipped in the inkpot represents the Arts faculty. The moving wheel and the sketch of an industry emitting smoke symbolize the Commerce faculty. The rocket and the electron configuration stand for the Science faculty. All these faculties are under the fluttering wings of the spirit of Co-operative Movement through the sugar industry. This is symbolized by the shaking hands that would lead us to scale greater heights.
Special Feature of College
Continuous support and encouragement by the management.
Awards and recognitions received by the institution.
Unique in implementing the "Restructuring pattern" for undergraduate courses.
Vocational courses in Functional English and Seed Technology.
Self-financing courses.
Research centres in Chemistry, Botany, Zoology, Environmental Science, Physics, Economics and Commerce.
11 Career Oriented certificate courses, 02 MSSDS certificate courses, 01 Diploma, 01 Advanced diploma, 05 Remedial, 06 Bridge, 04 Value added and 04 Add on Courses.
13 courses under YCMOU programme for dropouts and employees.
Qualified and experienced staff.
Copious infrastructure facilities for teaching and learning.
Well equipped and fully automated Central Library.
Well disciplined, green and serene campus.
Well furnished Boys and Girls hostels.
Variety of Co-Curricular, Extra-Curricular and extension activities.
Free Internet access for students.
Earn and Learn scheme for the needy and poor.
Active Career Guidance and Placement cell.
Self-learning through Virtual classroom.
Extension counter of Pravara Sahakari Bank Ltd.
Spacious playground and multigym facility.
24x7 security on the campus.
Student Co-curricular Achievements
Student Academic Achievements
36 students have made it to the top 10 University rankers since 2013
Student Sports Achievements
"I am deeply honored to inform that Padmashri Vikhe Patil College of Arts, Science and Commerce, Pravaranagar has directly or indirectly played a crucial role in carving a new niche for our students. During the last two decades, the institute has taken a giant leap in introducing conventional, vocational, career,skill and job-oriented programmes at undergraduate, postgraduate and research levels benefiting thousands of students and empowering a large number of rural women girl students. The vertical and horizontal expansion of the college campus into an academic center of excellence has put our college on the educational map of the country. While assuming the captaincy of this college. I am overwhelmed by sincere feelings of reverence, awe and gratitude.
As a Principal, leading this college offers a really big challenge as one has to match one's performance with the predecessors. Moving in gear with time, we have to grow at the speed of thought to register even the eye-blink changes. Further moving in synch with time, we must empower and strengthen our conventional courses with information technology and its mega reach. We are taking every step to strengthen our supremacy in academic and research programmes, infrastructure, placements, extension, co-curricular and extra-curricular activities."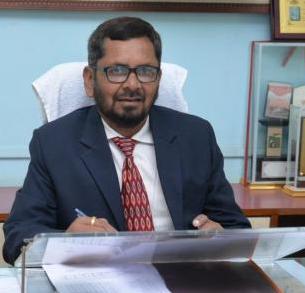 Dr. Dighe P.M.
Principal