Department of Zoology
The department of Zoology was established in 1971, is one of the leading departments of Padmashri Vikhe Patil College, Pravaranagar which conducts academic programs at UG, PG and Research level. Department is recognized as a Star Department under DBT Programme (2007) and also DST-FIST sponsored department (2008).
At present the department of Zoology conducts teaching programmes in Zoology at U.G. level under two streams Non-restructuring and Restructuring. PG programme was started in 1993 on self financing basis to help the rural students to pursue higher studies and fulfill their dreams. Department is recognized as a Research Centre in 2007 for Ph. D. programme.The department conducts a certificate course in sericulture under career oriented courses.
The Department has diversified teaching and research to suit both recent advances and needs of the regional populace. Presently Department has 11 teaching staff members, out of which 5 are Ph. D. holders. Three staff members of the department are recognized as research guide for M. Phil and Ph. D. degree. So far 4 research students are doing their research work in the research centre.
The staff members of the department have published 4 books and 37 research papers in various national/ international journals and proceedings of conferences during the last five years. Out of 37 research papers, 13 were published in UGC listed and 22 in UGC non-listed journals and 2 in proceedings of conferences. Faculty also completed 2 minor research projects in last five years. Some of the faculties of the department are life members of various international Journals. One of the faculties, Dr. B. A. Pawar is on editorial member of Journal of Experimental Zoology, India, Muzaffarnagar, UP. Recently department Organized International Conference on Recent trends and challenges in Science & technology (RTCST-2014) sponsored by UGC New Delhi and state level seminar on Recent Trends in Life Sciences (RTLS 2018) sponsored by BCUD, Savitribai Phule Pune University, Pune. The Department provides consultancy services such as Sericulture, Vermiculture and Apiculture for local peoples.
Presently significant research contributions are being made in the department in the field of biochemistry and physiology of parasites, fisheries, toxicology, environmental pollution, biodiversity studies, entomology and pest control. The department is actively engaged in research activities and generating funds from the UGC, DBT and DST, New Delhi and BCUD, Savitribai Phule Pune University, Pune. Department has received a total grant of Rs. 41,17,204/- from various funding agencies (Rs. 20,00,000/- from DST-FIST life sciences programme during 2008-2011, Rs. 12,35,204/- from DST- FIST '0' level in 2013, Rs. 87,000/- from DST-FIST and Rs. 8,15,000/- from UGC/ BCUD, Savitribai Phule Pune University, Pune for minor research projects.
Faculty Profile
| Name of Faculty | Designation | Qualification | Email | Contact No. |
| --- | --- | --- | --- | --- |
| Dr. Pawar B.A. | Head and Associate Professor | M.Sc., Ph.D. | ba_pwr2007@rediffmail.com | 9822529802 |
| Dr. Dhembare A.J. | Assistant Professor | M.Sc., Ph.D. | dhembareaj1963@gmail.com | 9922566067 |
| Dr. Tambe D. S. | Assistant Professor | M.Sc., Ph.D. | dinkartambe5679@gmail.com | 9960398170 |
| Dr. Pulate V. M. | Assistant Professor | M.Sc., Ph.D | vijaypulate@gmail.com | 9763776875 |
| Dr. Thete K.D. | Assistant Professor | M.Sc., Ph.D. | kishanthete@gmail.com | 9922142602 |
| Mrs. Musale M.T. | Assistant Professor | M.Sc., B.Ed. | anujachavan83@gmail.com | 9689481757 |
| Miss. Shaikh S.S. | Assistant Professor | M.Sc. | shabanabi1210@gmail.com | 9763504430 |
| Mr. Parkhe S. B. | Assistant Professor | M.Sc. | swamisp100@gmail.com | 8600531599 |
| Mr. Khemnar R. S. | Assistant Professor | M.Sc. | khemnar202@gmail.com | 9623515945 |
| Miss. Shaikh A. S. | Assistant Professor | M.Sc. | asma35arfa@gmail.com | 7350876863 |
| Mr. Kolkar B. E. | Assistant Professor | M.Sc. | bhausahebkolkar150@gmail.com | 9766593529 |
Programme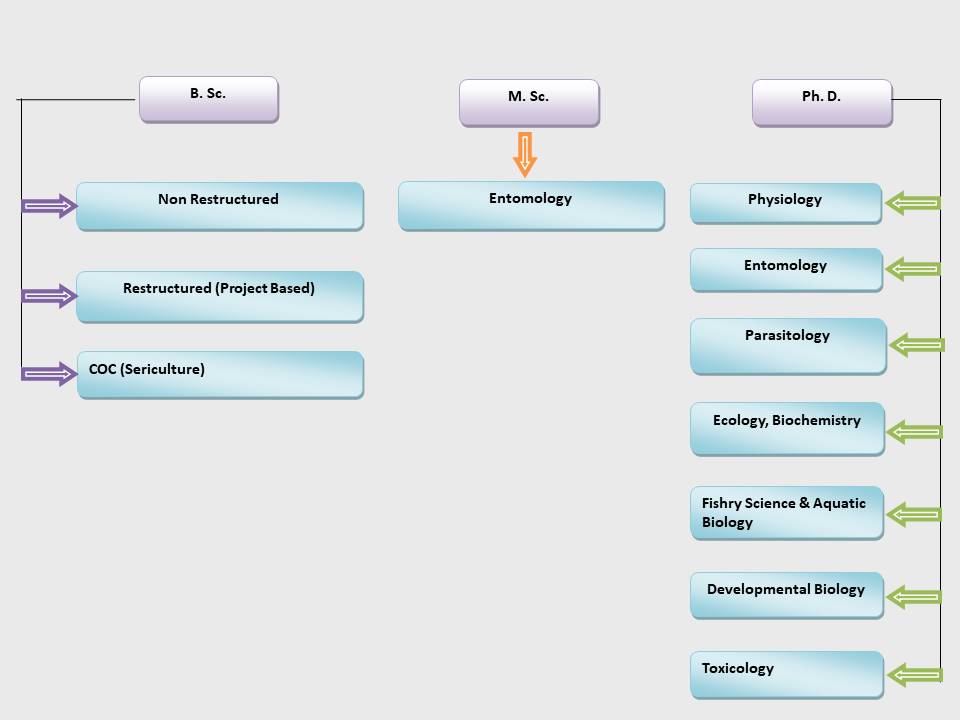 Major/Minor Research Projects
| Name of Principal Investigator | Title of Project | Funding Agency | Duration | Amount (Rs.) |
| --- | --- | --- | --- | --- |
| Dr. B. A. Pawar | Studies on water quality, plankton composition and fish diversity in relation to pisciculture in Kotmara lake, Ahmednagar district, Maharashtra | UGC, Western Regional Office, Pune-7 | 2011-13 | 1,70,300/- |
| Dr. D. S. Tambe | Diversity and Biology of cestode parasites in Freshwater fishes from Mula Dam Reservoir Ahmednagar Dist (MS) (Minor) | UGC Western Regional Office, Pune-7 | 2012-14 | 1,45,000/- |
Achievements
| Name of the Teacher | Name of the Award | Level |
| --- | --- | --- |
| Mr.Bhausaheb Eknath Kolkar | Awarded Scholarship under Euphrates Project (Erasmus Mundus Action- 2, strand 1 regulation) for Bachelor studies at University of Porto for 10 months in the academic year 2014-15. | International |
| Gaikwad Shital Bhausaheb | Received Hon. Khasdar Balasaheb Vikhe Patil Best Project Award in the year 2013-14 at T.Y.B.Sc. C Component level. | College |
| Miss. Hukare Pooja Moreshwar | Received Hon. Khasdar Balasaheb Vikhe Patil Best Project Award in the year 2014-15 at T.Y.B.Sc. C Component level. | College |
| Sonawane Ashwini | Received Hon. Khasdar Balasaheb Vikhe Patil Best Project Award in the year 2015-16 at T.Y.B.Sc. C Component level. | College |
| Miss. Dengle Sonali Venunath | Received Hon. Khasdar Balasaheb Vikhe Patil Best Project Award in the year 2016-17 at T.Y.B.Sc. C Component level. | College |
| Miss. Lanke Prajakta Popat | Shortlisted & awarded Trophy to their Research Project entitled, Agriculture and Animal Husbandry in the Research Project Presentation event 'Avishkar 2016', organized by A.C.S. Rahuri College on 9th Dec 2016. | District |
| Mr. Kolkar Bhausaheb Eknath | Shortlisted & awarded Trophy to their Research Project entitled, Agriculture and Animal Husbandry in the Research Project Presentation event 'Avishkar 2016', organized by A.C.S. Rahuri College on 9th Dec 2016. | District |
| Miss. Pawar Nilam Bhagwat | Shortlisted & awarded Trophy to their Research Project entitled, Agriculture and Animal Husbandry in the Research Project Presentation event 'Avishkar 2015, organized by Sanjivani College Kopargoan on 8th Oct. 2015. | District |
| Miss. Ghorpade Yogita Sampat | Awarded certificate for securing 1st Prize in the Science Talent Search Exam March 2016 in PG category, organized by Science Association, P.V.P. College, Pravaranagar. | College |
| Mr. Shaikh Tanvir Najir | Awarded certificate for securing 2nd Prize in the Science Talent Search Exam,March 2016 in PG category, organized by Science Association, P.V.P. College, Pravaranagar. | College |
| Chavan Mayur Shivaji | Presented a paper entitled, Scorpion venom& secured 1st Prize, in the S.P. Pune University sponsored State level Seminar on tool and tech. in animal sciences by Ahmednagar college, Ahmednagar | State |
| Gavit Pundalik Ramdas | Presented a paper entitled, Scorpion venom& secured 1st Prize, in the S.P. Pune University sponsored State level Seminar on tool and tech. in animal sciences by Ahmednagar college, Ahmednagar | State |
| Miss. Ghorpade Pooja Dattatraya | Presented a paper entitled, an assessment of zooplankton population of Shilvandi lake in relation to pisciculture, Ahmednagar district, Maharashtra. | State |
| Miss. Sanap Aishwarya Vivekanand | Presented a paper entitled, variation in protein content of Helminth parasite infected & uninfected intestine of Kadaknath Fowl & secured 1st Prize, in the S.P. Pune University sponsored State level Seminar on Recent Trends in Life Science, organized by Department of Zoology, P.V.P. college, Pravaranagar, held on 12th& 13th Feb., 2018. | State |
| Miss. Pathare Priyanka V. | Phenotypic studies... etc & secured Appreciation prize, in the S.P. Pune University sponsored State level Seminar on Recent Trends in Life Science, organized by Department of Zoology, P.V.P. college, Pravaranagar, held on 12th& 13th Feb., 2018. | State |
Events
| Event | Level | Funding Agency | Duration |
| --- | --- | --- | --- |
| One day workshop on: Framing of S.Y.B.Sc. Restructuring Syllabus (Applied Entomology) | University | BCUD , University of Pune | 1st February 2014 |
| One day workshop on: Framing of S.Y.B.Sc. Restructuring Syllabus (Medical Lab techniques) | University | BCUD , University of Pune | 1st February 2014 |
| International Conference : Recent trends and challenges in Science & technology (RTCST-2014) | International | UGC New Delhi | 22 to 24 August 2014 |
| One day workshop on: Framing of T.Y.B.Sc. Restructuring Syllabus (Applied Entomology) | University | BCUD , University of Pune | 26thFebruary 2015 |
| State level conference on: Recent Trends in Life sciences | State Level | BCUD , University of Pune | 12th and 13thFebruary 2018 |