Department of Physics
The department of physics was established in the year 1971-72 with the objective of making physics learning interesting and applicable. Physics as principal subject at 3rd year was started in 1979-80, while Master degree in Physics was introduced in 1990-91 to pursue higher education in rural area. Project based learning is compulsory at both U.G. & P.G. Levels. Among the 15 faculty members, two are Ph.D degree holders and three are M.Phil. One staff is NET & SET qualified & 5 are B.Ed.
The faculty is actively involved in the university curriculum designing & development at both UG & PG levels. The success rate at UG and PG level is almost 100 %. Department has organized one national, one state level seminar & three university level workshops in last five years. Student- teacher relations are quite friendly so that interesting fields & abilities among them are easily captured for proper counseling & guidance, which has resulted into almost 100% placement. Teachers constantly upgrade themselves by attending orientation & refreshers courses, workshops, seminars, symposia, conferences etc.
Every year 1-2 students from the department are selected at national level for Advance Diploma in radiotherapy at Tata Memorial Hospital, Mumbai. Department also encourages and guide the students to appear for various competitive examinations. In addition to teaching field, students are placed in industries, IT sector, research institutes, civil & defense services & medical fields, etc.
Department has Recognized Research Center of SP Pune University, Pune since 2014. Dr. P. M. Dighe & Dr. N. D. Sali are recognized research guides. At present four students are pursuing Ph.D. Imperative areas of research are renewable energy- Solar Energy, Nuclear Physics, Nanotechnology & thin films.
Department has successfully completed three minor research projects funded by BCUD Savitribai Phule Pune University & UGC, New Delhi while one minor project is ongoing. Faculty members have published 30 papers in national/international journals & written 9 books in last five years.
As a social commitment, teachers and students of the department visit nearby villages and schools to popularize & promote use of renewable energy sources, especially Solar Energy. During the visits, awareness is created about the pollution & climate change, efficient use of electrical home appliances & renewable energy utilizing devices .With the help of demonstrations, people are trained in using solar energy utilizing devices such as solar cooker, solar drier, solar lantern and solar water heaters. This is one of the unique social activities of our department carried out since last 15-20 years. Continuous & disciplined efforts of the faculty have resulted into creative & responsible citizen to the society.
Faculty Profile
| Name of Faculty | Designation | Qualification | Email | Contact No. |
| --- | --- | --- | --- | --- |
| Mr. Shirole G.T. | Head and Associate Professor | M.Sc., M.Phil, D.H.Ed. | gt_shirole@ymail.com | 9403690739 |
| Dr. Dighe P.M. | Principal | M.Sc., Ph.D. | pradeep.dighe@pravara.in | 9423462660 |
| Dr. Pawar R.A. | Assistant Professor | M.Sc., M.Phil, Ph.D. | rampawar2007@rediffmail.com | 9975834684 |
| Mr. Bhatkute S.D. | Assistant Professor | M.Sc., B.Ed. | shankarbhatkute@gmail.com | 9822859656 |
| Mr.Pehere B.M. | Assistant Professor | M.Sc., B.Ed. | bpehere@yahoo.com | 9890891689 |
| Mr. Chavan M.B. | Assistant Professor | M.Sc. | chavanmahesh513@@gmail.com | 8975232284 |
| Mrs. Bhujbal M.S. | Assistant Professor | M.Sc., B.Ed. | manishabhujbal21@gmail.com | 7709121936 |
| Miss. Galande S.R. | Assistant Professor | M.Sc. | sonalgalande7038@gmail . com | 7038079094 |
| Miss. Arane U.S. | Assistant Professor | M.Sc. | ujwalaarane93@gmail.com | 9623889023 |
| Miss. Kadu A.V. | Assistant Professor | M.Sc. | ashwinikadu000@gmail.com | 7218862051 |
| Miss. Dange S.H. | Assistant Professor | M.Sc. | swatid545@gmail.com | 9960825236 |
| Miss. Nale R.A. | Assistant Professor | M.Sc. | rajshrinale061@gmail.com | 8830015900 |
| Miss. Thete S.P. | Assistant Professor | M.Sc. | shivanjalithete@gmail.com | 7776932422 |
| Miss. Raut A.G. | Assistant Professor | M.Sc. | rashwini022@gmail.com | 9922592845 |
Programme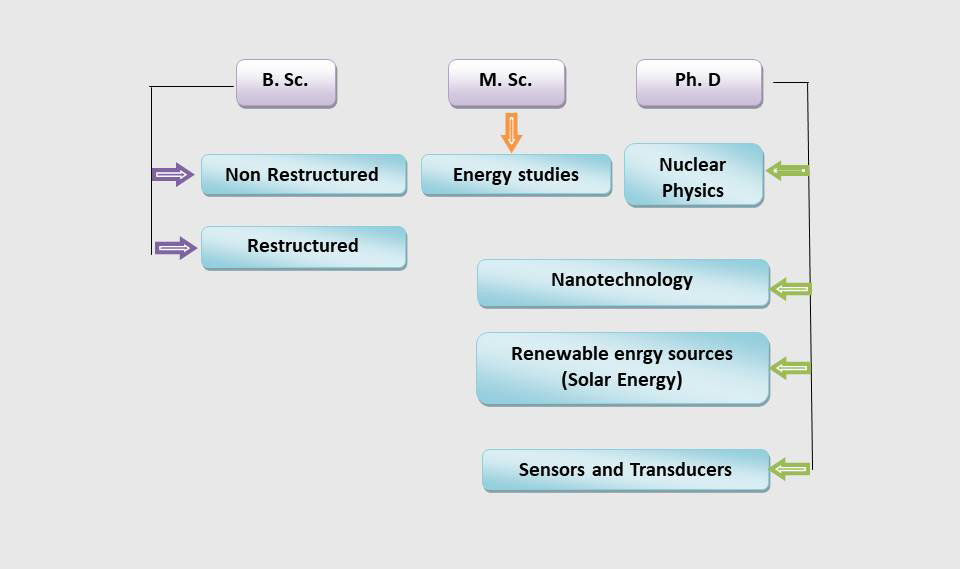 Major/Minor Research Projects
| Name of Principal Investigator | Title of Project | Funding Agency | Duration | Amount (Rs.) |
| --- | --- | --- | --- | --- |
| Dr.P.M.Dighe | Cabinet Solar Dryer for Quality Dehydration of Vegetables and Medicinal Plant Materials | UGC-WRO | 2015-2017 | 3,55,000/- |
| Dr.R.A.Pawar | Investigation of transport and magnetic properties of ferrite in the presence of Ln3+f-block element by Sol -Gel method | BCUD,SPPU,Pune | 2014-2016 | 1,65,000/- |
| Dr. R. A. Pawar | To Study the performance and evaluation analysis of solar cooking system by using parabolic concentrator at Shri Sai Baba Sansthan Shirdi. | UGC, WRO, Pune | 17 Nov 2009 | 1,00,000/- |
| Dr. P. M. Dighe | Synthesis of Superfine powders using Sol-Gel Technique. | University of Pune | 2 Years 2007-2009 | 2,00,000/- |
| Prof. G. T. Shirole | Study of Techno economic feasibility of solar cooking system installed at Saibaba Sansthan,Shirdi. | University of Pune | 2 Years 2007-2009 | 2,00,000/- |
Achievements
Name of the Teacher
Name of the Award
Level
Dr. P. M. Dighe

Fellow of Council of Research and Sustainable Development by Council of Research and Sustainable Development on December 2016

Fellow of Society of Education by Society of Education on March 2016

Certificate of Excellence by Society of Education on December 2016

National

National

National

Dr. R. A. Pawar

Honorary Doctorate of Letter(D. Litt) by Dr. S. Radhakrishan Research and Development Centre¸ Bangalore affiliated to University of Asia

Dr. A. P. J. Abdul Kalam Excellent Award by India International Friendship Society, New Delhi

Pride of India Award 2018 by International Publishing House, New Delhi

Best Citizens of India by International Publishing House, New Delhi

International

International

International

International

Dr. Miss A. B. Rohom

South Korea Internship award
Indo-Korea Research Intern Fellowship funded by DST, New Delhi and NRF, South Korea (Dongguk University, South Korea, 2017)

CSIR-SRF award
Senior Research Fellowship (SRF-CSIR, New Delhi for period 2015-17)

Best Poster Presentation (22nd Raman Memorial conference held at Department of Physics, SPPU, Pune on 12th -13th February 2016)

Best Oral Presentation(International Conference ICANMEET held at Satybhama University, Chennai on 24th to 26th July 2013 )

International

National

National

International
Events
| Event | Level | Funding Agency | Duration |
| --- | --- | --- | --- |
| Framing of FYBA/BSc (Restructuring) Syllabus | University | SPPU, Pune | 7th February 2013 |
| Framing of SYBSc (Restructuring) Syllabus | University | SPPU, Pune | 1st February 2014 |
| Framing of TYBSc Restructuring Syllabus | University | SPPU, Pune | 26th February, 2015 |
| Recent Trends in Utilization of Solar energy | State | B.C.U.D SPPU, Pune | 21-22ept. 2013 |
| Emerging Trends in material Characterization | National | B.C.U.D SPPU, Pune | 9th – 10th Feb. 2016 |