Department of Marathi
The Department of Marathi in PVP College was established in the year 1971. Marathi started taught at the general level from 1972. BA (Marathi) was introduced in the year 1973. Post graduate course i.e MA (Marathi) was started in the year 1992.It is also a subject for FYBCom and SYBSc, apart from the regular BA courses.
Apart from the regular University courses, the department runs few other courses like, Communication Skills in Marathi and Mass Communication Courses under the Restructuring Program. The UGCs Certificate Course in Journalism is also available for FYBA students.
The department is consistently developing its research activities. Dr C D Rudrakshe and Dr S B Chaudhari have completed PhD and are recognized research guides. Mrs S M Wakole is pursuing her Ph D research. So far Dr S B Chaudhari has completed two minor research projects. He has applied for a Major Research Project to the UGC. Dr C D Rudrakshe is working on a UGC minor research project. The faculty members have published total 28 research papers in the last five years.
Faculty Profile
| Name of the Faculty | Designation | Qualification | Email | Contact No. |
| --- | --- | --- | --- | --- |
| Dr. Rudraksha C.D. | Head and Assistant Professor | M.A.,M.Phil, SET, Ph. D. | cdrudraksh@gmail.com | 9860432045 |
| Dr. Chaudhari S.B. Member-B.O.S. in Marathi SPPU,Pune | Assistant Professor | M. A., NET, Ph.D | drchaudharisb@gmail.com | 9850265417 |
| Smt. S.M. Wakole | Assistant Professor | M.A,NET,Pursuing Ph.D. | wakolesangita@gmail.com | 9404402884 |
Programme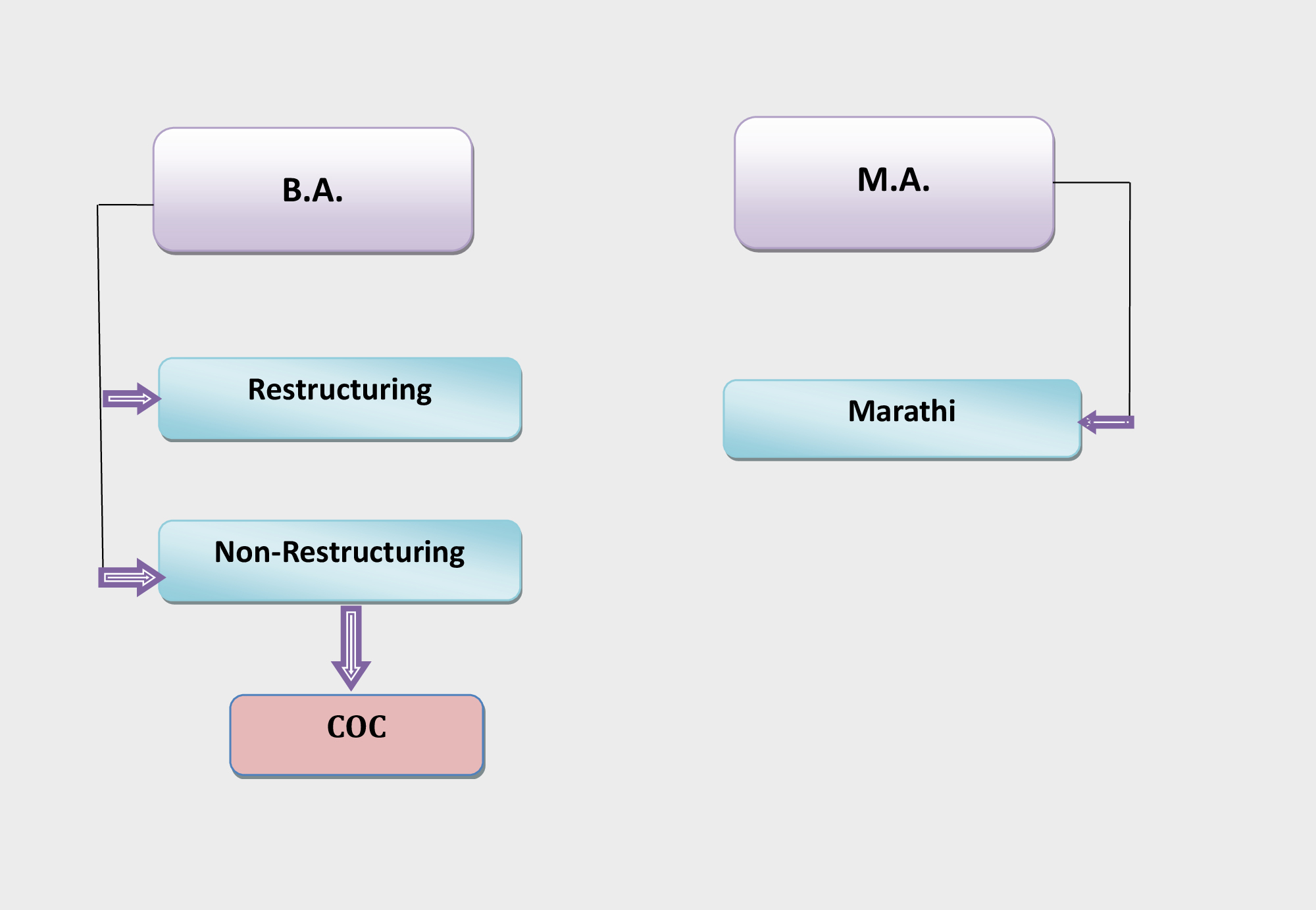 Major/Minor Research Projects
| Name of Principal Investigator | Title of the Project | Name of Funding Agency | Duration of Project | Amount/ Fund received (Rs.) |
| --- | --- | --- | --- | --- |
| Dr.C.D.Rudrakshe | Ahmednagar jilyatil nivadak bhatkaya vimuktanche lokjivan aani loksahitya yancha abhyaas | UGC-WRO, Pune | 2014-15 | 1,95,000/- |
| Dr. S.B. Chaudhari | Shri Na Pendse va Mhoan Rakesh Yanchya kahi kadambaryancha abhyaas | BCUD, Pune | 2009-10 | 50,000/- |
| Dr. S.B.Chaudhari | Kahi Nivadak Anuvadith Sahitykrutincha Abhyaas | UGC-WRO, Pune | 2009-11 | 60,000/- |
Achievements
Faculty Awards
| Name of the Teacher | Name of the Award | Level |
| --- | --- | --- |
| Dr. C. D. Rudrakshe | Sahityapremi Mandal Someshwernagar , RAJYASTRIYA SAHITYARATN PURSKAR-2013 (Vibhavari Shirurkaranchya Sahityatil Shri Sanvedna yaa Sanshodhan Granthas) | State |
Student Awards
| Name of the Student | Name of the Award | Level |
| --- | --- | --- |
| Mr. Mundhe Govind Devram | SET Exam Qualified- 2015 | University |
Events
| Event | Level | Funding Agency | Duration |
| --- | --- | --- | --- |
| National Seminar on, Bhartiya Loksahitya: Samajik, Sanskrutik va Sahityik Adhyayan | National | B.C.U.D.S. P. Pune University | 13th to 14th Jan. 2017 |